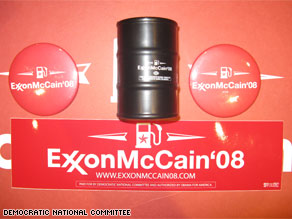 Reporters traveling with Sen. McCain received these items from the DNC Tuesday.
(CNN) – Last month, the Republican National Committee tire gauges as part of its effort to rip Sen. Barack Obama's energy policy. Now the Democratic Party is returning the favor, sending journalists oil drum-shaped stress balls as the presumptive Republican nominee visited an oil rig Tuesday to push for offshore drilling.
The "Exxon-McCain '08" campaign kits from the Democratic National Committee — the latest effort in a weeks-long campaign by the party to tie McCain to the oil giant - contain a bumper sticker, two buttons, and a stress relieving device shaped like an oil barrel. All of the items are emblazoned with the words "Exxon McCain '08" and the image of a gas station pump.
But in a bit of poor political timing, a study by the Center for Responsive Politics released earlier this month as the DNC launched its effort to link McCain to Exxon found that employees and executives of that company, along with fellow oil giants Chevron and BP, had actually donated more money to presumptive Democratic nominee Barack Obama than to the Arizona senator's presidential bid. The study did find that McCain received more contributions overall from the oil industry - $1.3 million compared with roughly $400,000 to Obama.