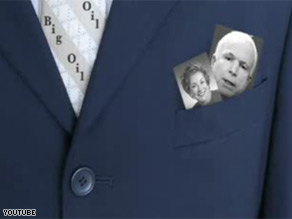 MoveOn released a new ad, 'Pocket,' Tuesday.
(CNN)— MoveOn.org has their sights set on Sen. Elizabeth Dole's unexpectedly competitive contest for re-election in North Carolina, spending nearly half a million dollars on an ad accusing the North Carolina senator and fellow Republican John McCain of being "in the pocket of Big Oil."
"We could have provided clean energy for a million homes…or reduced our dependence on foreign oil," the announcer says. "Instead, John McCain and Elizabeth Dole allowed big oil companies to keep $13.5 billion dollars in tax breaks."
Dole, who currently has $2.7 million in her campaign war chest to State Senator Kay Hagan's $1.6 million, was thought to be a safe bet for re-election, but finds herself in an unexpectedly tough fight.
The 30-second spot, "Pocket," is MoveOn's first Senate race ad this cycle, according to Communications Director Ilyse Hogue. She added that MoveOn currently has no set plans to use similar versions of the ad in other states, but has not ruled out the possibility, as the nation's energy woes continue to dominate headlines this campaign season.
Dole campaign spokesman Dan McLagan downplayed the potential statewide impact of the MoveOn buy, saying Dole had already been hit with a million dollars in outside spending, "and they are welcome to spend more. That dog ain't gonna hunt down here. These are the same surrender monkeys that called for a peaceful response to the 9/11 attacks that killed nearly 3,000 Americans. Their credibility in North Carolina is pretty low."
Dole, who was the first female senator to be elected in North Carolina, was also the first female chair of the National Republican Senatorial Committee, serving from 2005-2007. Dole was replaced by Sen. John Ensign after the Republicans lost control of the Senate in 2006.
MoveOn isn't the only outside group targeting Dole this cycle. The Democratic Senatorial Campaign Committee has sunk $6 million into an ad buy targeting the North Carolina senator.
On the presidential level, North Carolina — which hasn't voted for a Democratic presidential candidate since Southerner Jimmy Carter in 1976 - is leaning toward presumed Republican nominee John McCain in CNN's latest analysis of the Electoral Map.
CNN Electoral Map: Who's ahead?
But Barack Obama's campaign has made it clear that it considers North Carolina a battleground state, and has launched an ambitious effort to bring Democrats, particularly newly-registered black voters, to the polls in November. The resources being lavished on the presidential race are expected to translate into gains for Democrats further down the ticket, including Hagan. "North Carolina is a state that is a hotly contested Senate race, and also within striking distance of becoming a presidential battleground state," said Hogue.
"There is certainly a buzz on the ground," said Hagan's campaign press secretary, Dave Hoffman, who also said Hagan would hit the campaign trial with Obama this fall.
The MoveOn ad, airing in Raleigh, Charlotte and Asheville will coincide with 130 events across the country to "show the local economic impact of John McCain's tax give-away to Big Oil," according to a press release from the group.