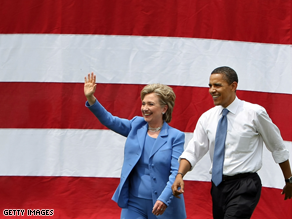 Clinton is still mired in campaign debt.
(CNN) - It might be Barack Obama's convention, but Hillary Clinton is taking the opportunity to raise money off of it.
Days after the New York senator announced she would award one contributor a trip to the convention with her, husband Bill Clinton is out with another fundraising appeal Monday encouraging supporters to join the contest.
Cafferty: Should Obama help Clinton with debt?
In an e-mail to potential donors Monday, the former president promised one contributor would have a memorable week with his wife, though he took care to reiterate Obama is the Democrat who the party will nominate for president.
The e-mail is a stark reminder the New York senator remains mired in campaign debt more than two months after she ended her historic bid for the White House, much to the aggravation of many of her supporters.
"You'll get to see Hillary speak on Tuesday, and Barack Obama - the next president of the United States - on Thursday," he wrote. "And I hear Hillary and you will have a chat - I'll make sure to stop by."
The fundraising appeal also comes shortly after it was announced Clinton's name would be placed in nomination along with Obama's and the same day one of the New York senator's most prominent backers, billionaire Lynn Forrester, expressed anger with Obama for not doing more to help the New York senator retire her campaign debt.
"He has provided her with a pittance compared to what the Clintons have given Obama," she said. "Her debt could have been cleared within 10 days. It's ungracious."
Related: Clinton donors hesitant to show love for Obama
When it comes to her campaign debt, the conclusion of the party's convention serves as an important deadline. According to McCain/Feingold campaign finance reform, candidates only have 20 days after that date to fundraise for their personal loans.
As of the end of June, Clinton was more than $25 million in debt, $13 million of which is owed to herself. (Though New Jersey Senator Frank Lautenberg is currently appealing the FEC with regards to that provision.)
The Clintons, likely averse to any more hits on their public image, are reportedly not seeking to get their own money back.