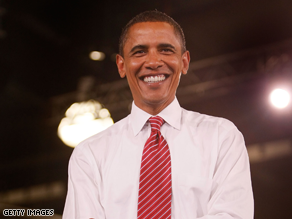 Did Obama drop a big VP hint?.
(CNN) - When is a pronoun more than just a part of speech?
A missing word in a standard response delivered by presumptive Democratic nominee Barack Obama Tuesday night sent political reporters scrambling.
The Illinois senator has been careful this campaign season to refer to his future running mate as "he or she," to avoid sending unintentional signals about which party figures may or may not be in the running.
But asked at a North Carolina town hall meeting whether he would use a future vice president the same way President Bush has, Obama referred to just one gender. "Let me tell you first what I won't do," he said. "I won't hand over my energy policy to my vice president, without knowing necessarily what he's doing."
CNN Political Market: Make bets on who's going to be VP?
"…My vice president also will be a member of the executive branch," he added, "he won't be one of these fourth branches of government where he thinks he's above the law."
His remarks were thorough, and included a full description of his prospective VP's personal priorities and demeanor. What they did not include was the feminine pronoun.
While the top three rumored finalists for the VP slot – Delaware Senator Joe Biden, Virginia Governor Tim Kaine and Indiana Senator Evan Bayh – are all men, reports have placed some women high on Obama's shortlist this cycle, including Kansas Governor Kathleen Sebelius, and of course, former primary rival, New York Senator Hilary Clinton.