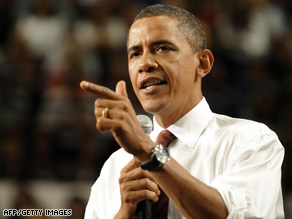 Sen. Barack Obama has a big event scheduled Saturday. Will his No. 2 man (or woman) be by his side?
(CNN) - The question is starting to feel a little old: Who will Barack Obama pick as his vice president?
With the clock ticking (the Democratic VP candidate delivers a big speech next Wednesday) the announcement is at most days and at least a few hours away.
Everyday seems to be "the day" - the day the guessing game will finally end.
In a poke at all of the VP buzz, the Obama campaign on Wednesday sent an e-mail to reporters with the subject line "Vice presidential ..."
The first line of the e-mail: "Just kidding." The e-mail contained details about Obama's schedule with no mention of any of the potential vice presidential candidates.
But if the top contenders have any inside information, they're doing a good job of keeping quiet.
Sen. Joe Biden on Tuesday told reporters camped outside his Delaware home that it's not him.
"You got better things to do guys; I'm not the guy," he said.
Asked where he would be on Saturday - when Obama is reportedly scheduled to hold a campaign event in Springfield, Illinois, that may feature his new running mate - Biden replied, "Here," pointing to his driveway.
He softened up a little later that night, telling reporters, "I promise you, I don't know anything."
Along with Biden, Sen. Evan Bayh of Indiana and Virginia Gov. Tim Kaine are considered to be among the top tier of VP contenders.