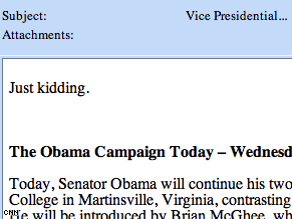 Burton's Wednesday e-mail to reporters.
(CNN) - Pity the poor Obama beat reporter – sleeping with their blackberry within arm's reach and their cell phone tucked under their pillow awaiting the looming vice presidential announcement, their job description expanded to include Talmudic-style dissections of vacation itineraries, campaign logistics and grammatical slips.
Having trouble working up any sympathy? So is Barack Obama's campaign. Wednesday morning, as VP speculation reached fever pitch, national spokesman Bill Burton sent reporters an e-mail titled "Vice Presidential…."
First line of the message: "Just kidding."
It'll probably be a lot funnier after the convention.