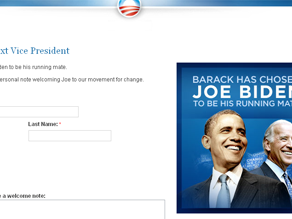 Joe Biden's Web site now redirects to Barack Obama's.
DENVER (CNN) - In cyberspace, Joe Biden's presidential campaign once had its own Web address where the Delaware senator made his own case for why he should be the Democratic nominee.
Type in Biden's Web address now, and Barack Obama's presidential campaign Web site appears, featuring a request for visitors to "Take a minute to share a personal note welcoming Joe to our movement for change."
Of course, in return for that personal note, well-wishers are greeted with a slightly less personal appeal for campaign cash.