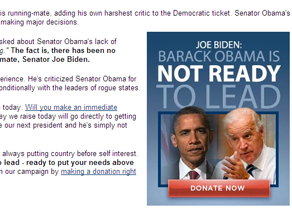 Rick Davis slammed the Biden pick in an email to supporters.
(CNN) - Barack Obama has added his "harshest critic" to the Democratic presidential ticket, McCain campaign manager Rick Davis said in a fundraising e-mail to supporters Saturday morning.
The e-mail was sent hours after the McCain campaign released a television ad highlighting an August 2007 Democratic primary debate during which newly-named Obama VP Joe Biden said the Illinois senator was not ready to be "commander-in-chief."
"Senator Obama's choice in a running-mate once again brings up his questionable judgment when faced with making major decisions," Davis wrote.
"Senator Biden has long been a leading critic of Senator Obama's lack of foreign policy experience. He's criticized Senator Obama for his lack of leadership and judgment on Iraq, Afghanistan and his commitment to meet unconditionally with the leaders of rogue states," he also wrote.