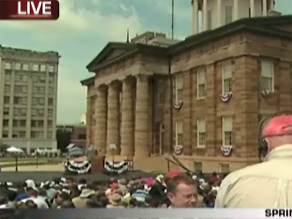 A large crowd is awaiting the debut of the Obama-Biden ticket
(CNN) - The 2008 Democratic presidential ticket will formally debut in Springfield, Illinois Saturday, and the heat and humidity there does not appear to have dulled supporters' enthusiasm, CNN's Rachel Streitfeld reports.
A large near-capacity crowd has already gathered and the line for the press entrance has stretched down an entire block.
Catch the entire event on CNN or CNN.com/live

UPDATE: David Blanchette, a spokesperson for Illinois Historic Preservation Agency, tells CNN's Jessica Yellin he thinks at least 15,000 people have turned out in Springfield awaiting the Democratic ticket.