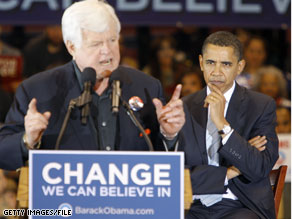 Sen. Kennedy campaigned for Sen. Obama in February and is eager to do so again.
DENVER, Colorado (CNN) – Despite battling a brain tumor, Sen. Edward Kennedy's wife told supporters Monday that he is itching to get back on the campaign trail in an effort to help Barack Obama win the presidency.
"Ted is eager to get back on the campaign trail, to elect Barack Obama as President, build a stronger Democratic majority in the Senate, and put America back on track," Victoria Reggie Kennedy said in an email hours before he was set to attend the Democratic convention.
A tribute video will air tonight celebrating the 76-year-old Democrat's life. His niece, Caroline Kennedy, will introduce the video.
It is not clear if Kennedy will speak or even take the stage.
UPDATE: The Democratic National Committee has released excerpts from Caroline Kennedy's planned tribute to her uncle. "In our family, he'll always be known as Uncle Teddy," Kennedy's niece will say. "More than any senator of his generation, or perhaps any generation, Teddy has made life better for people in this country and around the world. For 46 years, he has been so much more than just a Senator for the people of Massachusetts, he's been a Senator for all who believe in a dream that's never died."