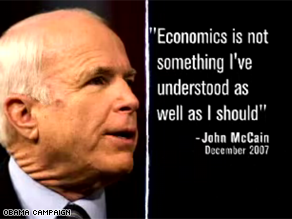 Obama's new ad mocks McCain on the economy.
(CNN) - Barack Obama's campaign launched a new television ad Monday mocking rival John McCain over the Arizona Republican's past comment suggesting he does not grasp economic issues as well as he should.
To the tune of Sam Cooke's classic "Wonderful World," McCain's December 2007 quote, "Economics is not something I've understood as well as I should," is shown followed by still images of gas pumps and foreclosure signs.
The 30-second spot also includes re-written lyrics of the classic song, including the verse, "I am not up on the economy/Don't know much about industry/Really can't explain the price of gas/Or what has happened to the middle-class."
The ad ends with a picture of McCain and President Bush embracing while a banner states, "We can't afford more the same."
The Obama campaign says the ad will air in key battleground states.