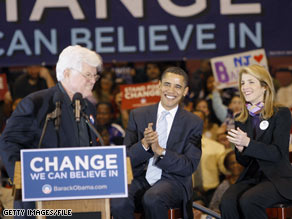 Sen. Kennedy and his niece, Caroline, campaigned with Sen. Obama in February.
DENVER (CNN) - Tonight marks the Kennedy moment of the convention. And what's important is, the Kennedy legacy has a very specific meaning. Democrats for years have talked about finding another Kennedy. In the 80s, it was supposed to be Mario Cuomo. Now, Barack Obama is being called the "black Kennedy."
The Kennedy image is that of the tough liberal. Liberals in the 70s and 80s were not tough guys; the stereotype was that of the wimpy liberal. Democrats long for another tough guy in the Harry Truman, John Kennedy, Lyndon Johnson mold.
Ted Kennedy has, of course, become the last bearer of that legacy of his generation - and Ted Kennedy's endorsement of Barack Obama is certainly the most important endorsement of the campaign, because it signified the anointment of Obama as a Democrat in the Kennedy tradition.