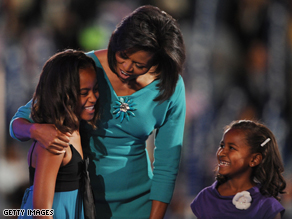 A new Gallup poll suggests that more than half of Americans beleive a candidate's spouse is an important factor in their vote.
Michelle Obama's speech last night was meant to convince Americans that her family is just like the rest of us.
The wife of the presumptive Democratic nominee talked about things like family and hard work – that should resonate with millions of people across the country. The idea is to calm the fears of some that Barack Obama is different and unknown with an exotic background.
Michelle Obama described herself as a daughter, wife and mother coming from a blue-collar background – her dad was a city worker in Chicago. She talked about the anxiety her husband felt when driving their oldest daughter home from the hospital as a newborn, and what she thinks about when she tucks her two girls into bed at night.
Mrs. Obama said her husband is an ordinary man, joking about his love of basketball. She talked about his being raised by a single mother and grandparents who "scrimped and saved" so they could give him opportunities they never had.
To read more and contribute to the Cafferty File discussion click here