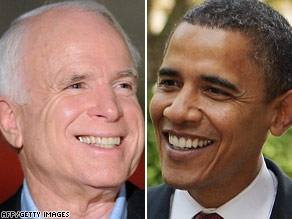 Sens. McCain and Obama traded swipes over patriotism Tuesday.
(CNN) - John McCain Tuesday accused Barack Obama of missing a great "chance to express such confidence in America" in his speech in Berlin last month.
"He was the picture of confidence, but in some ways the confidence itself and confidence in one's country are not the same," McCain told a gathering of the American Legion in Phoenix.
"And in that speech, Senator Obama left an important point unclear. He suggested that the end of the Cold War proved that there was, "no challenge too great for a world that stands as one... The Cold War ended not because the world stood 'as one,' but because the great democracies came together, bound together by sustained and decisive American leadership."
The Obama campaign, which has accused McCain of impugning the Illinois senator's patriotism, responded quickly.
"The 'confusion' here is between John McCain rhetoric that no one's love of country should be questioned and the reality of his campaign's daily, false, personal and detestable attacks on Senator Obama," said Obama campaign spokesman Hari Sevugan.
They also pointed to passages of the Germany speech that included praise for America. "I also know how much I love America. I know that for more than two centuries, we have strived - at great cost and great sacrifice - to form a more perfect union; to seek, with other nations, a more hopeful world," he said then.
"What has always united us - what has always driven our people; what drew my father to America's shores - is a set of ideals that speak to aspirations shared by all people: that we can live free from fear and free from want; that we can speak our minds and assemble with whomever we choose and worship as we please."
Obama also criticized European anti-Americanism, telling the crowd that "just as American bases built in the last century still help to defend the security of this continent, so does our country still sacrifice greatly for freedom around the globe."