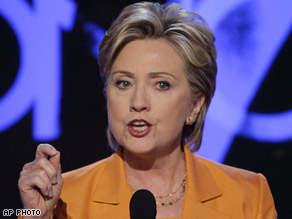 Hillary Clinton addresses delegates at the Democratic National Convention.
DENVER (CNN) - This is the closest thing to a red meat speech this convention has gotten. And man, are these delegates hungry.
Watch: "I support Barack Obama," Hillary Clinton says
"No way. No how. No McCain" is likely to get picked up.
The Clintons have always been devoted to the cause of stopping the Republican right. It's the message that unites Clinton and Obama supporters.