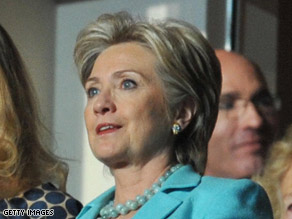 Hillary Clinton watches from the stands as Bill Clinton speaks at the DNC.
(CNN) - CNN has learned from a Democratic leadership aide that Senate Majority Leader Harry Reid has asked Hillary Clinton to deliver the party's weekly radio address this weekend in advance of the Republican convention.
Democrats from the House, Senate, national party and the Obama campaign rotate delivering the speech each week. This weekend is the Senate's turn.
Clinton is expected to repeat many of the themes of her speech on Tuesday, highlighting party unity, said the Democratic leadership aide.