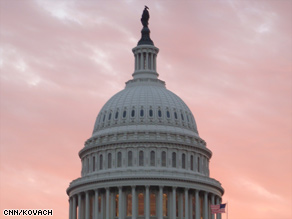 CNN: Clinton: Obama 'must be our president'
Sen. Hillary Clinton introduced herself as a "proud supporter of Barack Obama" at the Democratic National Convention on Tuesday as she called on her party to rally behind her former rival.
CNN: McCain campaign: Clinton did not say Obama ready to lead
Sen. Hillary Clinton may have endorsed Sen. Barack Obama for president in a speech at the Democratic National Convention Tuesday night, but Sen. John McCain's campaign said she stopped short of saying that he is ready to lead the country.
CNN: Bill Clinton to take center stage at Democratic convention
Sen. Joe Biden will make his first appearance before the Democratic National Convention as his party's vice presidential nominee Wednesday night, but the real drama of the evening may come from former President Clinton and what he says about Sen. Barack Obama.
Boston Globe: Romney: McCain earned his homes; Obama didn't
Former governor Mitt Romney, perhaps continuing his audition to be John McCain's running mate, attacked Barack Obama today for making an issue out of McCain's many homes.
CNN: America needs Obama, says ex-Virginia governor
Former Virginia Gov. Mark Warner told the Democratic National Convention that the most important race facing the country is the "race for the future ... and it won't be won with a president who is stuck in the past."
CNN Radio: Hillary goes all-out for party unity
It was Hillary Clinton's night to shine at the Democratic Convention as she called for unity in the party. CNN's Steve Kastenbaum has the details in the CNN Political Ticker.
Click here to view all the Day Two video highlights
Click here to read Sen. Hillary Clinton's full remarks
Click here for Keynote Speaker Former Virginia Gov. Mark Warner
CNN: Analysis: Clinton speech was 'generous,' 'authentic'
CNN's political analysts had all angles of Sen. Clinton's speech covered. Take a look at what they had to say.
CNN: Source: Bill Clinton will not attend Obama's Invesco speech
Hillary Clinton will be on hand for Barack Obama's acceptance speech, but according to a source close to former President Bill Clinton, he will not: the source tells CNN that Clinton will not join his wife at Invesco Field Thursday night.
CNN: Some Clinton delegates say they'll heed unity call
Before Sen. Hillary Rodham Clinton's address to the Democratic National Convention on Tuesday, many in the party - including the delegates she had won - were looking for her to preach unity.
Politico: Did Hillary heal the wounds?
There is no second place in American politics. There is no silver medal, no shadow prime minister, no government in exile.
Politico: Obama camp mulls shortened roll call
The Obama campaign is considering an abbreviated roll call Wednesday that would allow Democratic convention delegates in Hillary Rodham Clinton's strongest states to support her — and is mulling a plan to let delegates vote by secret ballot, according to those familiar with the planning.
USA Today: '3 A.M.' McCain ad uses Clinton clips
Republican John McCain's campaign released a TV ad Tuesday that uses part of an ad that Hillary Rodham Clinton deployed against Barack Obama during the Democratic primaries. It reprises a question Clinton posed: "Who do you want answering the phone" in the White House at 3 a.m.?
Washington Post: Obama's Response Ad Reflects Lessons of 2004
Sen. Barack Obama's campaign and its allies, mindful of the lessons of the Swift boat attacks of 2004, have begun an aggressive, multi-pronged attack on an advertisement running in swing states that seeks to link the Democratic presidential candidate to former domestic terrorist William Ayers.
NY Times: For Obama, a Challenge to Clarify His Message
Modern presidential conventions are mostly political circus, but for Senator Barack Obama, the question is whether the theatrics and drama of this one are overwhelming one of his most important tasks here: connecting with the economic anxiety gripping voters and convincing them that he has concrete and achievable solutions.
Financial Times: Obama team hones in on economy
Barack Obama's campaign plans to push back aggressively against what it sees as John McCain's distortions of his economic policies and hammer home the message that every blue-collar household will get a $1,000 tax cut if he is elected.
Politico: Democrats take aim at McCain's temper
John McCain's Democratic colleagues in the Senate are zeroing in on his oft-discussed temper, questioning whether the presumptive Republican presidential nominee is too volatile to be commander in chief.
Washington Post: All Aboard for the Senator
The strangest thing happened Monday morning at the train station here. "Joe came in here with a motorcade," says Daniel Thorpe, 44, a cab driver at the Amtrak station. A motorcade? For ol' Joe? Everybody here is used to seeing Joe Biden by himself, on his way to and from the train - used to being able to go up and shake Joe's hand, talk about the grandkids.
CNN: Giuliani: Hillary 'a no brainer' for VP
Former New York Mayor Rudy Giuliani joined the choir of ardent Hillary Clinton supporters Tuesday night– asking why Barack Obama passed up the New York senator for his number two spot.
Washington Post: Obama, Biden's Son Linked by Earmarks
Sen. Barack Obama sought more than $3.4 million in congressional earmarks for clients of the lobbyist son of his Democratic running mate, Sen. Joseph R. Biden Jr. of Delaware, records show. Obama succeeded in getting $192,000 for one of the clients, St. Xavier University in suburban Chicago.
WSJ: Biden Helped Delaware Keep Corporate Bankruptcy Filings
Joe Biden has fought to preserve Delaware federal courts' disproportionate share of corporate bankruptcies, benefiting law firms in his home state that rank among his top supporters.
Washington Post: Obama, Bill Clinton Remain Distant
Bill Clinton and Barack Obama - in so many ways two sides of the same coin. Old heat and new cool, two guys who came out of nowhere, bereft of early connections, overcoming the odds.
WSJ: As Democrats Convene, McCain Strategists Take to 'War Room'
It was the bleary-eyed end of a 16-hour day, and the strategists in the Republican war room were about to call it quits. Then an image from the Democratic National Convention flashed across their banks of television sets.
NY Times: Some Clinton Fund-Raisers Are Still Simmering
A significant number of Senator Hillary Rodham Clinton's top fund-raisers remain on the sidelines and unwilling to work for Senator Barack Obama, a nettlesome problem that appears to be contributing to the campaign's failure to keep pace with ambitious fund-raising goals it set for the general election.
NY Times: One First Is Celebrated. What About the Second?
History is being made in Denver, but so far, it has been slipped under the carpet during prime time. Tuesday night was tailored to pay homage to Senator Hillary Rodham Clinton's barrier-breaking near-miss, yet there was no overt celebration of the bull's-eye: Barack Obama is poised to be the first African-American presidential nominee.
WSJ: Candidates Spending More on Cable Ads
Do the presidential candidates want their MTV? As the campaign heads into the final media battleground, each candidate will be throwing millions of dollars at television. This time though, they're expanding their sights to new outlets: non-news cable networks.
Washington Post: Conveying a Sure Sign of Political Passion
Long before the evening program began, before Lee Hedgepeth got into sign-distribution mode, he was on the convention floor, checking out Hillary Clinton's rehearsal and seeing who else was doing what and why.
Washington Post: Rocking the House Comes at a Cost for Lawmakers, Staff
House staff members who had been planning on free entry to a much-anticipated Kanye West concert here sponsored by the Recording Industry Association of America and the One Campaign received an unwelcome message on Monday: The House ethics committee had concluded that a free ticket was akin to a gift, and was therefore illegal.
LA Times: Howard Wolfson, ex-Clinton spokesman, turns indie rock blogger
Speaking of Sen. Hillary Rodham Clinton not being the Democratic Party's presidential nominee, her former director of communications, Howard Wolfson, has a new job many of us knew about - commentator on Fox News. But add to that now another pastime: He's an indie rock blogger.
LA Times: Villaraigosa denies Denver snub; says he's working hard for Obama
Some speculated that the mayor's limited role at the convention was retribution for his support for Clinton during the primaries.
Washington Post: Washington Area Speakers Take the Podium
Del. Eleanor Holmes Norton made a heartfelt and rousing push for D.C. voting rights at the Democratic National Convention yesterday afternoon, vowing that the city will "keep the promise" for full representation to honor Darryl T. Dent, a soldier from the District who died in Iraq.
Washington Post: Crises Reveal Limits of Bush's Personal Diplomacy on World Stage
He glimpsed inside Vladimir Putin's soul and found something to his liking. He has also showed off his Texas ranch to Saudi King Abdullah, talked economics with Chinese President Hu Jintao and visited Graceland with then-Japanese Prime Minister Junichiro Koizumi.
Washington Post: Detroit Mayor Could Face Removal
Michigan Gov. Jennifer M. Granholm announced yesterday that she will hold a hearing to decide whether Kwame M. Kilpatrick should be forced from office, denying the embattled Detroit mayor's appeal to have the hearing delayed or canceled.
Washington Post: Archbishop Disputes Pelosi's Statements
Washington Archbishop Donald W. Wuerl and several other U.S. bishops are disputing statements by House Speaker Nancy Pelosi during a "Meet the Press" appearance about the Catholic Church's teachings on abortion. They say she misrepresented the church's longstanding opposition to the procedure and twisted some church teachings.