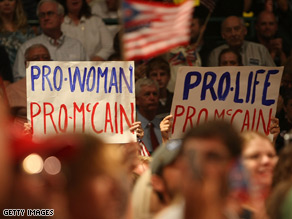 Supporters hold signs at McCain's vice presidential announcement Friday.
(CNN) - John McCain's campaign hit back hard against the initial reaction to his choice of running mate, Alaska Gov. Sarah Palin, from rival Barack Obama's campaign.
In a statement released earlier Friday, Obama campaign spokesman Bill Burton sharply questioned Palin's preparedness to be president.
Watch: McCain says Palin is exactly what he needs
"Today, John McCain put the former mayor of a town of 9,000 with zero foreign policy experience a heartbeat away from the presidency," Burton said.
But McCain communications director Jill Hazelbaker said Palin's experience far outpaces that of Obama.
"It is pretty audacious for the Obama campaign to say that Governor Palin is not qualified to be vice president," she said. "She has a record of accomplishment that Senator Obama simply cannot match.
"Governor Palin has spent her time in office shaking up government in Alaska and actually achieving results - whether it's taking on corruption, passing ethics reform or stopping wasteful spending and the 'bridge to nowhere,'" Hazelbaker also said.