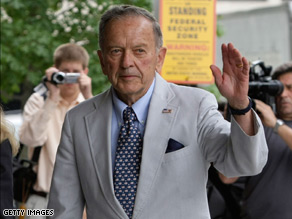 Sen. Ted Stevens commended McCain on his pick for VP Friday.
(CNN)—Alaska Senator Ted Stevens gave a glowing endorsement of the McCain-Palin ticket Friday, calling it "a great day for the nation and Alaskans."
The endorsement may not be welcome news by the McCain campaign given the Alaska senator was indicted last month on seven counts of ethics violations for failing to report more than $250,000 in home renovations and gifts from executives at VECO Corp, an Alaska-based Oil company. Stevens has pleaded not guilty to the charges.
"Governor Palin has proven herself as a bright, energetic leader for our state and will bring the same energy to the vice presidency," Stevens said in a statement.
Stevens, the longest serving Republican in the Senate, said Palin's background in energy-related issues will ensure a wide-ranging energy plan for the future, "one that will include development of Alaska's resources and reducing our dependence on foreign oil."
Palin is a strong advocate for the development of oil resources in Alaska. According to the Anchorage Daily News, Palin proposed giving Alaskans $100-a-month debit cards to account for rising energy costs in May.