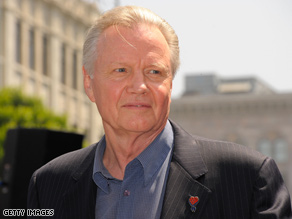 Voight is a longtime supporter of the GOP.
ST. PAUL, Minnesota (CNN) - The Democratic convention may have been swarming with celebrities last week, but its Republican counterpart isn't entirely lacking.
A crowd of fawning delegates surrounded actor and longtime Republican Jon Voight as he made his way to a luxury box Monday evening, just after the convention-gaveled to order.
Voight, who stopped to sign several autographs and pose for photographs, told CNN he's supporting McCain because the Arizona senator is a "man of great strength, a man of compassion, and a man of good humor."
"He's got a very clear eye of what's going on, so when we've just heard this recent stuff with Russia, he was so clear in his response, and that's because he knows what he's doing."
Voight also expressed strong support for Republican VP candidate Sarah Palin, and predicted political opponents won't be able to draw any advantage the news her 17-year-old daughter is pregnant.
"In these situations, these domestic situations, I think people will try to make some political capital on it, but they are not going be able to," he said. "This is a nice family and they'll be taken care of, there will be a little marriage. But the strength of that family are undeniable and the qualifications of this woman are also undeniable."
The actor wrote a controversial Op-Ed in the Washington Times last month in which he accused Barack Obama of "falling short in every way" and "sowing socialist seeds in young people."