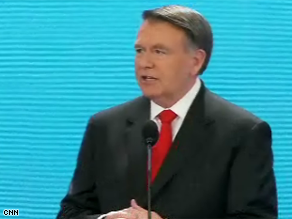 Duncan gaveled the 2008 Republican Convention to order Monday afternoon.
ST. PAUL, Minnesota (CNN) - National Republican Committee Chairman Mike Duncan gaveled his party's 2008 presidential convention to order Monday afternoon, starting a scaled-back day of events as Hurricane Gustav washed ashore on the Gulf Coast.
Duncan told the party's delegates the session would be an abbreviated one, and appealed for delegates to help with hurricane relief in the coming days.
It remains unclear if the party will resume a full convention schedule on Tuesday.
Watch gavel-to-gavel coverage on CNN.com/live