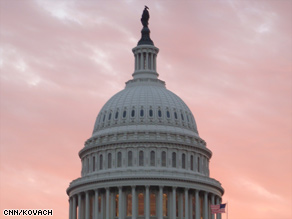 CNN: CNN Poll: Obama 49, McCain 48
On the eve of the Republican convention, a new national poll suggests the race for the White House remains dead even.
CNN: Gustav prompts major changes to RNC agenda
The Republican National Convention will cut back most of its activities Monday because of Hurricane Gustav, Sen. John McCain said Sunday.
Minneapolis Star-Tribune: Thousands expected Monday for protest
About 50,000 are expected today, despite no-shows by Bush and Cheney. But some call recent police actions efforts at intimidation.
USA Today: Palin backed 'bridge to nowhere' in 2006
In her nationally televised speech accepting the job as John McCain's running mate, Alaska Gov. Sarah Palin said she "championed reform to end the abuses of earmark spending by Congress" and opposed federal funding for a controversial bridge to a sparsely populated island.
CNN Radio: The Grand Old Party scales back the party
The Republicans are scrapping the celebrating and cutting back most activities at their convention today because of Hurricane Gustav. Dick Uliano has today's CNN Radio political ticker.
NY Times: Don't Like Palin's Wikipedia Story? Change It
IN the 24 hours before the McCain campaign put the finishing touches on its surprise announcement Friday that Gov. Sarah Palin of Alaska would be the Republican vice presidential candidate, one Wikipedia user was putting the finishing touches on her biography on the site.
Washington Post: With Palin On the Ticket, Evangelicals Are Energized
Outside his evangelical church in Cedar Rapids, Iowa, on Sunday, David Chung was mobbed by friends and church members suddenly excited about the Republican ticket.
USA Today: Gustav: McCain response poses risks, rewards
If anyone was thinking about the political repercussions of Hurricane Gustav — not that anyone at the Republican National Convention would admit to doing that — the bad news was that the GOP lost at least one night of national television programming.
Washington Times: Palin lobbyist ties include oil firms
Gov. Sarah Palin, whose independence was touted when she was named Sen. John McCain´s vice-presidential pick Friday, collected at least $24,000 from registered state lobbyists in her gubernatorial campaign, records show.
Politico: GOP sees potential redemption in Gustav
Republican officials say their radically curtailed convention offers a big political opportunity for the party to redeem itself on the competence issue — and for John McCain to step out of President Bush's shadow once and for all.
NY Times: McCain's Pick May Foster Bigger Campaign Role for Clinton
Advisers to Senator Hillary Rodham Clinton said on Sunday that Senator John McCain's selection of Gov. Sarah Palin of Alaska as his running mate would lead to a greater role for Mrs. Clinton as she campaigned this fall on behalf of her former rival, Senator Barack Obama.
Detroit Free Press: Obama, Biden speak to middle class at rally
Sen. Barack Obama and running mate Sen. Joe Biden gave Michigan its first up-close look at the Democratic presidential ticket Sunday night, telling thousands of supporters that they'll turn around the economy, as they blasted Republican candidate Sen. John McCain for being out of touch with working families.
Washington Post: The Hurricane In Question Is Still Called Katrina
Three years after it battered New Orleans and the Gulf Coast, Hurricane Katrina upended this convention city Sunday.
CNN: Louisiana delegation torn between family, duty
With Hurricane Gustav bearing down on their state, Louisiana delegates to the Republican National Convention on Sunday were torn between party duty and concern for family back home.
Washington Post: This Time, There Won't Be Cake
On the day Hurricane Katrina slammed into New Orleans three years ago, President Bush was in the midst of a working vacation at his ranch in Crawford, Tex., and the storm did little to change his schedule.
CNNMoney.com: Gustav sends oil higher
Crude rises slightly in 'muted response' during a special electronic trading session. Hurricane bears down on region that controls 25% of U.S. crude production.
Washington Post: Hurricane Blows Networks' Convention Coverage Off Course
On the eve of what was supposed to be the Republicans' week in the media spotlight, every network is suddenly turning into the Weather Channel.
CNN: Poll shows no convention bounce for Obama
On the eve of the Republican convention, a new national poll suggests the race for the White House remains even.
Washington Post Op-Ed: Howard Wolfson: A Clintonite in Denver
For many of us who were part of the Clinton campaign, Sen. Barack Obama's appeal was something we understood only in the abstract - data in polls, faces at a televised rally.
CNN: Convention security plan going well, police say
Police Sunday saw little disruption prior to a Republican National Convention greatly scaled back due to Hurricane Gustav.
Washington Post: The Freedom to Look Ludicrous
At political conventions, where every word and gesture have been scripted, reviewed and revised, the motley collection of red, white and blue tailcoats, Uncle Sam top hats and other forms of aesthetically displeasing get-ups are as necessary as the gavels, the speeches and the power brokers flinging red meat.
CNN: Dem apologizes for joking about hurricane
Former Democratic National Committee Chairman Don Fowler apologized Sunday for recently joking Hurricane Gustav's expected landfall on the same day as the opening of the Republican National Convention suggested God was on the Democrats' side.
CNN: Ron Paul's show will go on
The convention for former Republican presidential candidate Ron Paul will go on as planned, the campaign said Sunday, despite the RNC's decision to truncate their program.
Washington Post: The Colbert Bump
The comedian Stephen Colbert routinely maintains that he plays an outsize role in influencing the course of American politics. After former Arkansas governor Mike Huckabee appeared on "The Colbert Report," the show noted, Huckabee's popularity went from 1 percent to 3 percent.