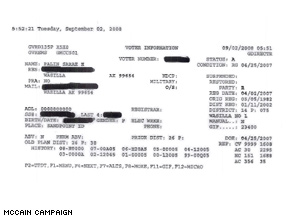 The McCain camp released a document Tuesday battling charges Palin had belonged to the AIP.
ST. PAUL, Minnesota (CNN) - John McCain's campaign accused Barack Obama's camp of spreading allegations that GOP running mate Sarah Palin had been a member of a political party that advocates a referendum that could allow Alaska to secede from the United States.
The McCain campaign sent reporters a document which they said showed Palin had been a Republican since registering to vote in 1982, and had not been a member of the Alaska Independence Party.
They also responded to reports that Palin had attended a convention of the AIP in her hometown of Wasilla in 2000. "This would seem to be the only decent thing to do, given her responsibilities as Mayor of Wasilla," said spokesman Tucker Bounds.
The campaign has been increasingly aggressive in responding to rumors, often issuing denials before any information is reported in mainstream media outlets. On Tuesday, the Palins released a statement revealing that daughter Bristol Palin was currently pregnant, in response to rumors that the teenager had given birth earlier this year. They also confirmed that Todd Palin, the presumptive VP nominee's husband, had been arrested for drunken driving two decades ago.