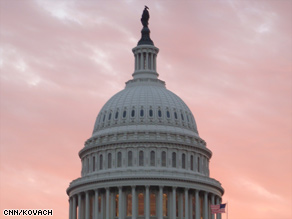 CNN: CNN Poll of polls: Obama holds slim lead
Roughly nine weeks before Election Day, a new CNN poll of polls shows Barack Obama holding a five point lead over John McCain. Only four days after Obama's acceptance speech and three days after McCain's pick of Sarah Palin as his running mate, Obama is now ahead of McCain, 49 to 44 percent.
CNN: McCain camp claims new fundraising record
John McCain's campaign said Monday that it had raised $47 million in the month of August – his biggest monthly total to date – nearly matching Barack Obama's July fundraising figure of $50 million.
Washington Post: GOP Deals With the Storm - and the Stork
Hurricane Gustav made landfall on the Louisiana coast about 10:30 a.m. Monday. Hurricane Bristol made landfall in Minnesota at 11:43 a.m.
AP: John McCain's vetter defends Sarah Palin review
Sarah Palin voluntarily told John McCain's campaign about her pregnant teenage daughter and her husband's 2-decade-old DUI arrest during questioning as part of the Republican's vice presidential search.
AP: McCain fought money on teen pregnancy programs
Republican John McCain, whose running mate disclosed that her unmarried 17-year-old daughter is pregnant, has opposed proposals to spend federal money on teen-pregnancy prevention programs and voted to require poor teen mothers to stay in school or lose their benefits.
Washington Post: Palin's Small Alaska Town Secured Big Federal Funds
Alaska Gov. Sarah Palin employed a lobbying firm to secure almost $27 million in federal earmarks for a town of 6,700 residents while she was its mayor, according to an analysis by an independent government watchdog group.
Washington Times: McCain in talks with Ron Paul for backing
The McCain campaign, acting through the Republican National Committee, has been negotiating with Rep. Ron Paul to win his support and acquire the names of his sympathizers among the 4,607 delegates and alternates at the Republican National Convention, according to a senior aide to the Texas congressman.
CNN Radio: Anarchists and Police make volatile mix at the Republican Convention
Police arrested more than 200 protestors outside the Republican National Convention. Dick Uliano reports President Bush could appear today via satellite from Washington. Get it all in today's CNN Radio Political Ticker.
WSJ Op-ED: Nancy Pfotenhauer: Ignore the Chauvinists. Palin Has Real Experience.
In Alaska Gov. Sarah Palin, Sen. John McCain has found a fellow maverick to be his running mate - one who can help bring the right kind of reform to Washington. Ms. Palin, like Mr. McCain, has a strong record of battling the status quo, restoring accountability and effectiveness to government, and working to secure energy independence, root out corruption and curb wasteful spending.
CNN: McCain communications team sent to Alaska
A senior adviser to John McCain's campaign confirms that they have dispatched a team of 12 people to presumptive VP nominee Sarah Palin's home state of Alaska.
CNN: Obama says Palin's family off limits
Sen. Barack Obama said firmly that families are off-limits in the campaign for president, reacting to news that GOP running mate Sarah Palin's 17-year-old daughter is pregnant.
NY Times: A New Twist in the Motherhood Debate
When Gov. Sarah Palin of Alaska was introduced as a vice-presidential pick, she was presented as a magnet for female voters, the epitome of everymom appeal.
CNN: Palin has hired lawyer as trooper probe continues
Alaska Governor Sarah Palin hired a lawyer three weeks ago to act on her behalf as state legislators investigate whether she may have abused her power in firing the state police chief for refusing to fire her ex-brother-in-law, a state trooper, CNN has confirmed.
Politico: New Palin details may help, not hurt
All of this, to one degree or another, has surfaced in recent days as a result of efforts to discredit or undermine Alaska Gov. Sarah Palin. But these revelations may have the opposite effect: In one sense, they could reinforce how remarkably unremarkable she is.
NY Times: Democrats, Eyeing Storm, Play Down Partisanship
On this Labor Day, which has long been the traditional opening to the general election season, the Democratic presidential ticket struggled to draw attention.
Financial Times: Crisis a test for Louisiana's young governor
Bobby Jindal was supposed to be one of the stars of the Republican national convention in Minnesota this week. Instead, the 37-year-old governor of Louisiana was forced to stay home to prepare for hurricane Gustav and deal with its aftermath.
Politico: Obama's bounce smaller than others'
Barack Obama's post-Democratic National Convention bounce in the polls appears to be slightly smaller than the norm of past conventions, and it's gradually depreciating. The Gallup daily tracking poll has found that since the conclusion of the convention, Obama has risen 4 percentage points in the polls, to lead McCain 49 percent to 43 percent today.
Politico: Some pols ignore calls for Gustav hiatus
With Hurricane Gustav bearing down on the Gulf Coast on Monday, Barack Obama started his day by saying it was not a time for political speeches. But some of his supporters — and his running mate, Joe Biden — did not adhere entirely to the message.
CNN: Bush may address RNC via satellite Tuesday
President Bush may still address the Republican National Convention via satellite from Washington Tuesday evening, White House spokeswoman Dana Perino said.
CNN: Laura Bush, Cindy McCain take convention stage
First Lady Laura Bush and Cindy McCain addressed the Republican National Convention Monday evening, delivering abbreviated remarks due to Hurricane Gustav.
CNN: Obama defends natural disaster experience
Barack Obama defended his experience in dealing with natural disasters, such as Hurricane Katrina, and took a swipe at newly minted GOP vice presidential candidate Sarah Palin.
CNN: Evangelicals rally behind Palin after pregnancy news
Key evangelical leaders rallied to Sarah Palin's support Monday amid news that her 17-year-old daughter, Bristol, was having a child.
Washington Post: Calculated Risk With Female Voters Is Suddenly Even Harder to Calculate
In a presidential campaign that has challenged assumptions about female voters and candidates across the spectrum, the announcement yesterday that Alaska Gov. Sarah Palin's unmarried teenage daughter is five months pregnant added a variable to the multiple factors that will motivate the votes of more than half of the electorate in November.
Washington Post: Gov. Mom
It's quite a compelling image: An accomplished - even glamorous - working mother, projecting to the world that she can and does have it all: five children, a successful career and a husband who doesn't mind being Mr. Mom. Oh, and she's going to be a grandmother, and her infant has special needs, and she's running for vice president.
CNN: Behind the Scenes: Working around the clock in Denver
As the RNC gaveled to order Monday afternoon, I finished producing an in-depth behind the scenes look at CNN's coverage of last week's democratic convention. It's part of a documentary-type podcast called "Inside CNN."
Washington Post: Despite GOP Convention Site, Midwest Unlikely to Be Crucial
When Republican leaders were deciding where to hold their 2008 nominating convention, their final considerations came down to major urban areas in a trio of swing states: Cleveland, Tampa-St. Petersburg and Minneapolis-St. Paul. In settling on the Twin Cities and basing the event in St. Paul, party leaders took a gamble on the electoral map.
CNN: Gustav changes but doesn't crash Republicans' party
Convention-goers pushed politics aside Monday as Hurricane Gustav altered their plans from 1,000 miles away.
CNN: Bush: Gustav coordination better than Katrina
President Bush said Monday that government response to Hurricane Gustav has been better than the response to Hurricane Katrina, the 2005 storm for which federal efforts were widely criticized.
CNN: Laura Bush on Gustav: Americans 'are here to do what we can'
First lady Laura Bush appealed Monday to the nation to put aside partisan interests and donate generously to charities to help Gulf Coast residents affected by Hurricane Gustav.
CNNMoney.com: Gustav hits U.S. economy
Storm is weaker than Katrina three years ago. But it hits an economy that is at greater risk.
CNNMoney.com: Gustav knocks out Gulf oil production
U.S. Department of Energy says hurricane halted oil and natural gas industry's activities in the Gulf of Mexico.
CNN: Police arrest dozens of 'anarchists' outside GOP convention
At least 56 people were arrested Monday after police fired rubber bullets and used pepper spray and tear gas to disperse a crowd demonstrating near the site of the Republican National Convention.
Newsweek.com: A Leading Hillary Supporter Defects to McCain
John Coale, a prominent Washington lawyer, husband of Fox TV host Greta Van Susteren and a supporter of Sen. Hillary Clinton, announced today that he was supporting John McCain for president.
Washington Post: Paul Is Here, and the RNC Isn't Happy
Former Republican presidential candidate Ron Paul has boasted that he wrote a book slamming the Iraq war and challenging the nation's economic system to continue a grass-roots movement that grew out of his quixotic campaign.
Washington Post: Rail-Riding Biden Is a Strong Backer Of Amtrak in Senate
By now, it's nearly impossible to have missed the fact that Sen. Joseph R. Biden Jr. (Del.), the Democratic vice presidential nominee, is such a homebody and regular guy that he rides Amtrak between Washington and Delaware every day when Congress is in session.