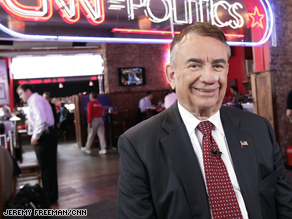 Thompson stopped by the CNN Grill Tuesday.
"This place is great", Said Tommy Thompson the former governor of Wisconsin and U.S. Secretary of Health and Human Services, as he looked around the CNN grill. Thompson stopped by CNN's all-in-one production and hospitality convention headquarters to do an interview on CNN.
Thompson seemed as excited abut CNN's Grill as he was about GOP VP nominee Sarah Palin: "She is energized at the base, and she energizes the party...you know the media is making a big deal about things....we'll get past all this."
He said he has been busy over the last few nights with GOP business, raising money for the group Friends of New Orleans, and hanging out with singer LeAnn Rimes after she performed at a Florida delegation party sponsored by Thompson's law firm.
If he had time to sit down, I asked what he would order off the CNN Grill original menu. "I'd get the Walleye Sandwich and the Cobbler A La Mode....I wish I had time to eat".
Thompson also stopped and chatted about motorcycles with CNN Anchor John Roberts.
Stay tuned for more from The CNN Grill.