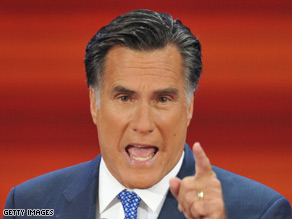 Former Republican presidential candidate Mitt Romney spoke at the RNC earlier this evening.
What's happened to Mitt Romney? He was a pretty strong campaigner, but at the convention he fell into self-parody.
A guy from Massachusetts who's worth $500 million, whose father was the president of American Motors, the governor of Michigan and a cabinet secretary - he's criticizing the "Eastern elite"?
Who is he kidding? Again and again he spat out the word "liberal." I was waiting for him to attack the pro-choice, pro-gay-rights, pro-universal health care liberal governor of Massachusetts - Mitt Romney.
I suppose Mitt has decided to rise above principle. Did you notice he never once uttered the word, "Bush."