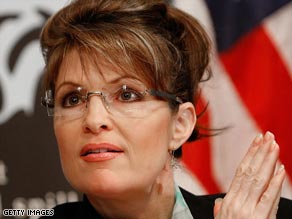 Sarah Palin takes center stage at the Republican convention Wednesday night.
ST. PAUL, Minnesota (CNN) - In what is expected to be one of the most dramatic moments of the convention, Republican vice presidential pick Sarah Palin takes the stage Wednesday night to introduce herself to the country.
In just days, the Alaska governor has gone from a little-known politician to one of the most talked about women in the country, after being named to the GOP ticket and after news broke of her teen daughter's pregnancy.
Palin's address marks her chance to define herself to the American public and prove that she has the knowledge and judgment to sit down the hall from a 72-year-old president should John McCain be elected.
"I think this is her grand opportunity," said David Gergen, a former presidential adviser and CNN's senior political analyst. "It's an opportunity to introduce herself to American voters who have only heard a few things about her, barely saw her on Friday, and now have heard a lot of rumors and controversy."
A top aide to Palin said the Republican vice presidential candidate will highlight her record as a governor and mayor of Wasilla, Alaska, and will also call for reform in Washington in her speech Wednesday.

Full story