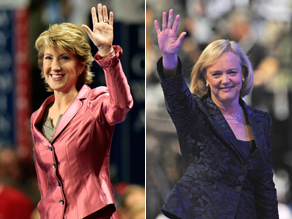 Meg Whitman and Carly Fiorina speaking at the RNC tonight.
It's good to see that the Republicans tonight are featuring more women at the podium, starting with Meg Whitman of E-Bay and Carly Fiorina, who was portrayed as the most powerful woman in America while she was CEO of Hewlett-Packard. Later on, of course, we will hear from Sarah Palin in the second most important speech of the convention - a story for a bit later.
The Republicans have gotten less credit than they deserve for trying to recruit more women and minorities in recent years. Bob Dole, just on CNN, was one of those who promoted them. George W. Bush, unbeknownst to almost everyone, was the second president to have white males as a minority in his first cabinet - second to Bill Clinton.
Given that, it is surprising how women and minorities are such a smallish proportion of the GOP delegates here compared to the Democratic convention. According to a New York Times survey of all delegates, women represent about one-third of the GOP delegates while women were about half of all Democratic delegates. Minorities represent 9 percent of the delegates in St. Paul compared to about 37 percent in Denver.
Interesting. What do you think?