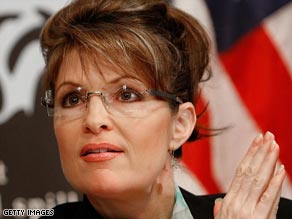 Republicans said Tuesday that Alaska Gov. Sarah Palin has more executive experience than Sen. Barack Obama.
ST. PAUL, Minnesota (CNN) - The main speakers at the Republican National Convention took time out from the program of lauding John McCain's service Tuesday night to come to the defense of his pick for running mate, Sarah Palin.
Fred Thompson led the charge, berating "Washington pundits and media big shots" who have questioned her experience as a first-term governor of Alaska.
"She is from a small town, with small-town values, but that's not good enough for those folks who are attacking her and her family," he said to cheers.
"Let's be clear ... the selection of Gov. Palin has the other side and their friends in the media in a state of panic. She is a courageous, successful reformer who is not afraid to take on the establishment," he added.
Thompson said Palin has the experience needed in Washington, calling her "a woman who has actually governed rather than just talked a good game on the Sunday talk shows and hit the Washington cocktail circuit."
Speaking after Thompson, Sen. Joe Lieberman, I-Connecticut, also called Palin "a reformer" and said, "she's taken on the special interests and the political power brokers in Alaska and reached across party lines to get things done."
Lieberman said that together, McCain and Palin would break through Washington bureaucracy.