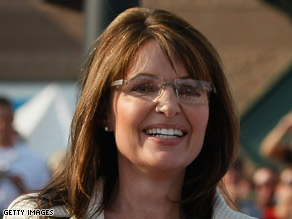 Holmes: Palin appears to be a woman who knows who she is.
For the past five days, the media has pummeled Alaska Gov. Sarah Palin on everything from her fitness as a mother to her fitness as a vice presidential running mate.
Lost in all of the media-generated heat has been very much light on Palin herself - who she is and what she's done.
Tonight, Palin gets to shine that light on her record and speak directly to the American people. Some have said this is a low risk environment for Governor Palin. Being introduced to millions of undecided viewers is never low risk. But the even higher risk may be for the media that has depicted the Governor as a small town country rube. She's never traveled to Europe! Or appeared on Meet the Press! She's only just recently acquired a Passport! Well, speaking French didn't end up being a particular election asset for John Kerry.
The good news for Palin is that the voters don't like the media choosing their politicians for them. This is a democracy, thank you very much, and we're all entitled to make up our minds.
The other good news is that Palin appears to be a woman who knows who she is. She's a woman of core values and strong convictions. That will hold her in very good steady in the media political storm.
Indeed, Al Gore's apparent personal insecurity plagued him throughout his 2000 presidential run. Earth tones, shirtsleeves, too much blush, too little personality. He's a fighter, he's a healer. Not only was it disconcerting to watch, it was unattractive.
Palin is nothing if not confident. And a confident performance tonight will help her connect with all of those voters who finally get to see her for themselves.