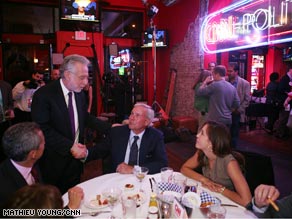 NBC's Tom Brokaw visited the CNN Grill in St. Paul Tuesday night.
St. PAUL (CNN) - Longtime NBC anchor Tom Brokaw stopped in the CNN grill Tuesday night after wrapping up at the Excel Energy center. Brokaw pleasantly greeted the crowd, took pictures, and chatted it up with a few folks then Brokaw grabbed a seat with staffers, friends, and CNN's Campbell Brown.
"The grill is great.... I had a Cheeseburger and a Grey Goose Martini".
When asked by if this was the best race he ever covered he said "no, 1968 and Bobby Kennedy".