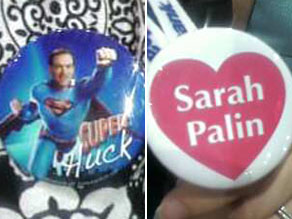 Various playful buttons have been spotted at the RNC.
Two new buttons have appeared on the floor:
One says "Super Huck" and has a picture of former GOP presidential candidate Mike Huckabee dressed as superman.
The other is a toast to Sarah Palin – it's a white button with a big pink heart surrounding her name.
UPDATE: Another new button spoted:
"The hottest VP from the coolest state"