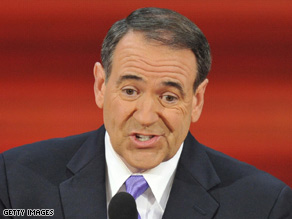 Former Republican presidential candidate Mike Huckabee spoke at the RNC earlier this evening.
ST PAUL (CNN) - Mike Huckabee's is the first speech so far that really seems to understand the voters' point of view.
People are hurting economically, and looking for real change. And he's a good man to deliver that message - Republicans always do best with candidates not born to wealth and privilege, like Eisenhower, Nixon and Reagan.
Huckabee also hits the right notes for this crowd: To these delegates, Europe = socialism.
A good line from Huckabee, if it's true: Sarah Palin got more votes running for mayor of Wasilla, Alaska than Joe Biden did for President of the United States. Then again, he was only an active candidate in one state – a caucus state, Iowa. And he's a sitting senator, who drew many times that number of votes in his last statewide election.
There was a touch of authentic populism there in Huckabee's speech – but I'm still waiting to hear talk about what they're going to do about the economy. That's what voters want to hear.
Still very little about George Bush.