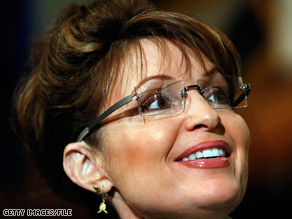 Palin is looking to appeal to women voters.
(CNN) - As Alaska Gov. Sarah Palin, Sen. John McCain's pick for vice president, makes her case to the convention Wednesday night, Republicans hope she will sway Democratic women toward their ticket.
Palin already has been working on that.
"It was rightly noted in Denver this week that Hillary [Clinton] left 18 million cracks in the highest and hardest glass ceiling in America, but it turns out the women of America aren't finished yet and we can shatter that glass ceiling once and for all," she said as McCain introduced her as his choice Friday.
But some of the most ardent Clinton supporters - even those still loath to vote for Sen. Barack Obama - found McCain's choice of Palin patronizing. Watch more of Palin's comments »
"Well, first were just laughing. I mean laughing not in the sense of 'Oh my God, what has he done?' but "Does he think that's really going to work?'" Allida Black, a Clinton supporter for Obama, said.
"I mean does he think that women voters who are with Hillary is some Lego block ... you can take out a red one and put in a green one?"
She said Palin and Clinton have only gender in common. Palin is anti-abortion rights, belongs to the National Rifle Association and is a conservative Republican. And she's been critical of Clinton, calling the New York senator's charges of "sexist" news coverage - whining.