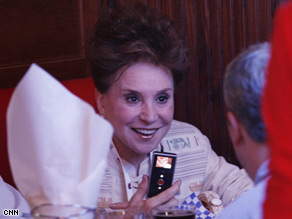 Cindy Adams spoke with CNN.
ST. Paul, Minnesota (CNN) – After rubbing shoulders with Susan Sarandon, Danny Glover, Charlize Theron, and Charles Barkley at the Democratic National Convention in Denver, New York Post celebrity gossip columnist Cindy Adams jetted off to "one of the dullest towns in America," according to her latest column, to sniff out politically-inclined celebs in St. Paul.
What does McCain running mate Sarah Palin have in common with an Alaskan salmon? And who will win November? Just a few of the five questions we put to the woman famous for knowing famous people over dinner at The CNN Grill.
Click here for the entire interview.
LISTEN to Cindy Adams compare Palin to an Alaskan salmon