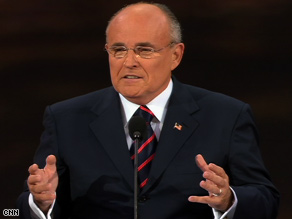 Former New York City Mayor Rudy Giuliani says Gov. Sarah Palin represents a new generation.
ST. PAUL, Minnesota (CNN) - Former New York Mayor Rudy Giuliani joined the chorus of former Republican presidential hopefuls who praised John McCain at the GOP convention Wednesday.
Giuliani's speech came after spirited talks by Mitt Romney and Mike Huckabee, who both squared off against McCain in the presidential race.
Just like Huckabee and Romney, Giuliani fired pointed attacks at the Democratic ticket while pushing traditional Republican themes of security, freedom and smaller government.
Giuliani, who ended his own bid for the Republican presidential nomination in January after a disappointing finish in Florida, also defended presumptive nominee McCain's selection of a running mate.