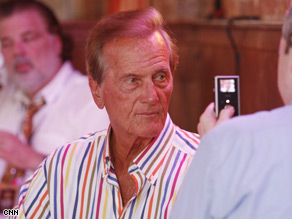 Musician Pat Boone says the McCain-Palin ticket will be a strong one for Republicans.
ST. PAUL, Minnesota (CNN) – With more top 40 hits than Madonna or Billy Joel, rock and roll legend Pat Boone is considered by many as "The Original American Idol."
So when the squeaky clean singer-songwriter waltzed into The CNN Grill at the Republican National Convention in St. Paul for a bite to eat, we couldn't resist the opportunity to ask the lifelong conservative how he thinks the race is shaping up and whether he has an apropos song for this year's historic election.
Click here for the entire interview.