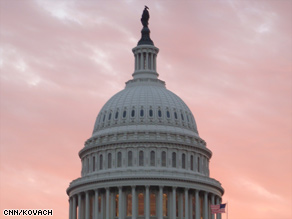 CNN: Palin blasts Obama as unfit to lead
Sarah Palin praised John McCain on Wednesday night as a man who has met grave challenges and "knows how tough fights are won."
Click here to read the full transcript of Palin's speech.
CNN: Democrats say Palin mimics Bush divisiveness
Democrats accused Republican vice presidential candidate Sarah Palin of mirroring "divisive" attacks by President Bush Wednesday night and said showed she wasn't qualified to be on the ticket.
CNN Radio: McCain gets props as Palin pulls no punches
John McCain takes center stage tonight after officially securing his party's nomination. Republicans used the third night of their convention to boost McCain and jab Democrat Barack Obama. Dick Uliano has today's CNN Radio Political Ticker.
WSJ: Speechwriter for McCain Hunkers Down
John McCain's acceptance speech Thursday is the pinnacle of a partnership between the candidate and his friend of nearly two decades, speechwriter Mark Salter.
Click here to read up on all the key speakers here.
AP: Palin: Iraq war 'a task that is from God'
Alaska Gov. Sarah Palin told ministry students at her former church that the United States sent troops to fight in the Iraq war on a "task that is from God."
AP: Antiwar march planned for last day of RNC
As John McCain accepts his party's presidential nomination Thursday night, protesters calling for an end to the Iraq war plan to march outside the Xcel Energy Center.
Washington Post: McCain Address to Be Wake-Up Call for GOP
When he steps to the lectern at the Xcel Energy Center on Thursday night to accept the Republican presidential nomination, Sen. John McCain will face an immediate comparison to an opponent known for his soaring rhetoric who delivered his own speech to a football stadium full of people and a television audience of 38 million. And that's the easy part.
WSJ: McCain Top Fund-Raisers Set New Target
John McCain's top fund-raisers met privately here Wednesday to begin a new effort to raise $100 million in the final two months of the Republican presidential candidate's campaign.
CNN: Hot mic catches GOP strategists trashing Palin pick
Prominent Republican analysts Peggy Noonan and Mike Murphy became the latest victims of an open microphone Wednesday, caught after a segment on MSNBC trashing John McCain's pick of Alaska Gov. Sarah Palin as his running mate.
Washington Post: Criticizing McCain, Obama Keeps Focus on Economy
Sen. Barack Obama on Wednesday dismissed the ongoing Republican National Convention as a substance-free spectacle hiding behind Sen. John McCain's biography and ignoring the economic insecurity that many Americans are facing every day as he continued a swing through working-class towns in the Midwest.
CNN: Electoral map alert: Obama picks up two states
Barack Obama may be inching closer to the magic number of 270 electoral votes necessary to win the White House, according to the most recent update to CNN's electoral map.
NY Times: Driven to Serve, and to Succeed
Senator John McCain's Republican primary campaign looked all but hopeless. He had risked the wrath of his party to push for an immigration overhaul and now, just months before the Iowa caucuses, his grand compromise was falling apart on the Senate floor as well.
WSJ: Palin's Faith Is Seen In Church Upbringing
At the Pentecostal church where Alaska Gov. Sarah Palin worshipped for more than two decades, congregants speak in tongues and are part of a faith that believes humanity is in its "end times" - the days preceding a world-ending cataclysm bringing Christian redemption and the second coming of Jesus.
USA Today: Palin shook up 'old boy's network'
Long before a legislative investigation into the firing of Alaska's public safety director began, Gov. Sarah Palin faced controversy for her management style.
WSJ: Alaska Governor's National Debut Evokes Voter Passion on Both Sides
As they watched Alaska Gov. Sarah Palin give one of the most anticipated political speeches of the year, the verdicts from voters rolled in. It wasn't a scientific sampling, but from bars to living rooms to the convention floor, it was the first time most Americans had seen Gov. Palin up close.
NY Times: The Unusual Challenges of Governing Alaska
Like so many other distinctions about Alaska — the biggest, wildest, coldest state not even half a century removed from its territorial days — being governor here is just flat different.
Washington Post: In 1988, There Was Another Surprise No. 2 Pick
Before Alaska Gov. Sarah Palin electrified the Republican National Convention Wednesday night with her acceptance speech, one man sitting with the California delegation thought he had been there before.
CNN: Biden says Palin 'warrants respect'
Joe Biden again refused to attack the experience of GOP vice presidential nominee Sarah Palin, hours before she was to deliver a speech sharply critical of the Democratic ticket.
WSJ: Celebrity Media Hits the Trail
Republican vice-presidential nominee Sarah Palin eats moose-burgers and paints her toenails pink. John McCain likes reality television. Win or lose, the Obama family is getting a dog this fall.
CNN: Giuliani attacks Obama's record as 'nothing ... nada'
Former New York Mayor Rudy Giuliani joined the chorus of former Republican presidential hopefuls who praised John McCain at the GOP convention Wednesday.
Click here to read the full transcript of Former Mayor Rudy Giuliani's speech.
CNN: Huckabee takes on Obama
Mike Huckabee says Sen. Barack Obama wants to give extremists a 'place setting at the table.'
Click here to read the full transcript of Former Gov. Mick Hackabee's speech.
WSJ: GOP Draws 21.5 Million Viewers
The Republican convention garnered 21.5 million prime-time TV viewers on Tuesday night, Nielsen said, down slightly from the 22.1 million people who watched the second night of GOP coverage in 2004.
USA Today: Dems eye electorate with St. Paul response
Democrats have about 25 staffers in St. Paul, some of whom infiltrate Republican state delegation events so they can be prepared to respond to GOP attacks. They are featuring party officials such as chairman Howard Dean, former Iowa governor Tom Vilsack and several members of Congress. And they are training local volunteers for get-out-the-vote efforts.
Financial Times: US says troops could quit Baghdad soon
General David Petraeus, the top US commander in Iraq, said declining violence in Baghdad raised the possibility that American combat troops could leave the capital by next summer.
CNN: Palin attacks 'shrill and sarcastic,' says Reid spokesman
A spokesman for Senate Majority Leader Harry Reid is hitting back hard at Republican vice presidential candidate Sarah Palin's speech Wednesday night, calling it "shrill and sarcastic."
Washington Post: McCain's Focus on Iraq War Carries Risk
The 55-page Republican Party platform, approved here this week, contains exactly one paragraph devoted to the war in Iraq - a sign of how the conflict that dominated the last two national election cycles has faded as a major political issue.
Washington Post: In a More Diverse America, A Mostly White Convention
Organizers conceived of this convention as a means to inspire, but some African American Republicans have found the Xcel Energy Center depressing this week. Everywhere they look, they see evidence of what they consider one of their party's biggest shortcomings. As the country rapidly diversifies, Republicans are presenting a convention that is almost entirely white.
Washington Post: Immigration Issue Gets Little Attention On Convention Floor
During the heat of the primary season late last year, Rep. Steve King (R-Iowa) said it was imperative for his party to nominate a candidate who was tough on illegal immigration and didn't parrot President Bush's centrist stance on the issue.
Politico: McCain and the politics of mortality
Since John McCain announced Friday that first-term Alaska Gov. Sarah Palin would be his running mate, Democrats have been quick to point out that the 44-year-old governor could soon be just "a heartbeat away from the presidency." The veiled reference to McCain's advanced age is hard to miss.
WSJ: McCain Shifts Right on Abortion
What are we to conclude about the state of the abortion debate from the fact that Sen. John McCain wavered in choosing a running mate between Sen. Joe Lieberman, who gets a voting score of zero from groups that oppose abortion rights, and Gov. Sarah Palin, who gets perfect reviews from those same groups?
Politico: Clinton aides: Palin treatment sexist
Sarah Palin found some unlikely allies Wednesday as leading academics and even former top aides to Hillary Rodham Clinton endorsed the Republican charge that John McCain's running mate has been subject to a sexist double standard by the news media and Democrats.
CNN: Alaska neighbors love their hockey mom VP candidate
Sarah Palin's neighbors saluted their hometown girl with Alaska Amber brew and testament to her small-town integrity as she accepted the Republican nomination for vice president Wednesday.
CNN: Dems could pull Lieberman chairmanship
Sen. Joe Lieberman's speech before the Republican National Convention Tuesday night could cost Lieberman the chairmanship of a key Senate committee, a top Senate Democratic aide told CNN.
CNN: Schneider: When in doubt, blame the media
The media attack animating this convention isn't a new one – it goes back decades, to 1964. It was first heard at the Republican convention in San Francisco, when former President Dwight Eisenhower got up and criticized "sensation-seeking columnists and commentators."
CNN: RNC bomb plan uncovered
A 23-year-old man was plotting to set off bombs to coincide with the Republican National Convention, according to details federal prosecutors released Wednesday.
Washington Post: This Time, Bush Finds Better Picture
When President Bush visited the Louisiana capital after Hurricane Katrina, most of New Orleans lay underwater, thousands were stranded in squalor, and his administration was feuding with the state's Democratic governor over who was to blame.
Washington Post: In a Historic Year, Ifill Has One Thing to Do: Her Job
Amid the craziness of covering the political conventions, Gwen Ifill has been brushing off one interview request after another.
Washington Post: Radiation Detector Plan Falls Short, Audit Shows
An ambitious Bush administration program to use new technology to stop radioactive materials from being smuggled into the country has fallen far short of its aims and will likely be sharply curtailed, according to an audit report obtained by The Washington Post.
WSJ: Halliburton Ex-Official Pleads Guilty in Bribe Case
In a wide-ranging foreign-corruption investigation, fired former Halliburton Co. executive Albert J. "Jack" Stanley pleaded guilty to orchestrating more than $180 million in bribes to senior Nigerian government officials. The bribes were used to win a contract to build a liquefied-natural-gas plant in Nigeria.
Washington Times: Inside the Ring: China's nuclear capability
China continues to resist disclosing details of its strategic nuclear weapons programs despite exchanges and discussions with the United States during the past two years, defense officials say.