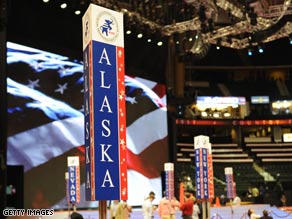 A new poll suggests that the selection of their governor, Sarah Palin, as the Republican VP nominee has increased Alaskans' support for the GOP ticket.
(CNN) – A new poll suggests that after a brief stint as a battleground state, Alaska may be safely back in the Republican column, thanks to John McCain's selection of Governor Sarah Palin as his running mate.
Likely voters in Alaska, which has three electoral votes, now favor the McCain-Palin ticket over the Obama-Biden ticket by 19 percentage points. The GOP ticket has the support of 54 percent of Alaskans, while the Democratic ticket is supported by 35 percent, with 11 percent of those surveyed saying they are unsure about their choice for president.
The Ivan Moore Research poll of 500 likely voters in Alaska was conducted August 30-September 2 and has a margin of error of plus or minus 4.4 percentage points.
A poll by the same organization conducted July 18-22 showed McCain leading Obama by only three percentage points – 47 percent to 44 percent.
Alaska has not supported a Democrat in a presidential election since 1964.