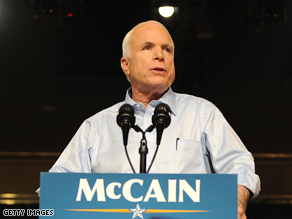 McCain is attacking Obama on military spending .
LEE'S SUMMIT, Missouri (CNN) -John McCain is launching a new line of attack against Barack Obama, criticizing his rival for saying Sunday that he would buck his own party by calling for an increase in the size of the U.S. military.
"Of course, now he wants to increase it," McCain told an audience in Lee's Summit, Missouri Monday. "But during the primary he told a liberal advocacy group that he'd cut defense spending by tens of billions of dollars. He promised them he would, quote, 'slow our development of future combat systems.'"
Watch: McCain says he will 'veto every earmark'
McCain was referring to a YouTube clip from last October that features Obama promising the non-profit group "Caucus for Priorities" that he would reduce wasteful military spending.
"I will cut tens of billions of dollars in wasteful spending," Obama said in the video. "I will cut investments in unproven missile defense systems. I will not weaponize space. I will slow our development of future combat systems."
In the video, Obama also said: "As president, my sole priority for defense spending will be protecting the American people."
Obama, now the Democratic nominee, was asked on ABC's "This Week" on Sunday to cite examples of where he would be willing to break with his own party.
"I've said that we need to increase the size of our military," Obama answered, noting that such legislation might anger some on the left.
McCain, who claimed in his remarks that the world is simply too dangerous to reduce military spending, said Obama is guilty of general election pandering.
"Sen. Obama told the extreme left what they wanted to hear during the primary, now he's trying to tell you what he thinks you want to hear," McCain responded in Missouri. "My friends, you may not always agree with me but you will always know where I stand."