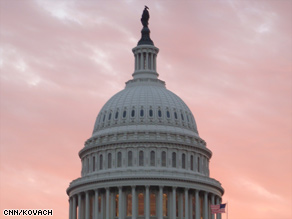 USA TODAY: Poll: Convention lifts McCain over Obama
The Republican National Convention has given John McCain and his party a significant boost, a USA TODAY/Gallup Poll taken over the weekend shows, as running mate Sarah Palin helps close an "enthusiasm gap" that has dogged the GOP all year.
CNN: McCain vows to have Democrats in Cabinet
Promising a "very bipartisan approach" to how he'll run his administration, Sen. John McCain said in an interview broadcast Sunday that he would appoint Democrats to his Cabinet.
WSJ: Alaska Officials Weigh Subpoenas For Palin Staff Over Firing
An Alaska state investigation into Gov. Sarah Palin's firing of her public safety commissioner is turning into a power struggle between the state's executive and legislative branches.
NYT: MSNBC Takes Incendiary Hosts From Anchor Seat
MSNBC tried a bold experiment this year by putting two politically incendiary hosts, Keith Olbermann and Chris Matthews, in the anchor chair to lead the cable news channel's coverage of the election. That experiment appears to be over.
CNN: Kennedy plans to return to Capitol Hill in January
Massachusetts Sen. Ted Kennedy, who underwent surgery in June for a brain tumor, will not return to Capitol Hill this week when Congress returns from its August recess.
CNN: Palin to give first television interview to national media
Alaska Gov. Sarah Palin, Sen. John McCain's surprise pick for the VP spot on the Republican ticket, has agreed to her first television interview with a national media outlet since being named as McCain's running mate.
CNN Radio: Red (and blue) alert!
Battleground Stations! Battleground Stations! That's the call for the major party candidates now, eight weeks before the election. Bob Costantini has today's CNN Radio Political Ticker.
CNN: Obama, Bill Clinton to sit down for a private lunch
Sen. Barack Obama and former president Bill Clinton will share a private lunch together on Thursday, September 11, CNN has confirmed.
WSJ: Campaign Spills Over to Congress
The 2008 presidential campaign shifts to Capitol Hill this week, where lawmakers are girding for fights over energy and the economy to score points on behalf of their anointed candidates.
LA Times: John McCain has found a muse in Sarah Palin
Ever since she became the Republican presidential nominee's running mate, he's been noticeably feistier - and they're drawing crowds together.
Washington Post: Lawsuit to Ask That Cheney's Papers Be Made Public
Months before the Bush administration ends, historians and open-government advocates are concerned that Vice President Cheney, who has long bristled at requirements to disclose his records, will destroy or withhold key documents that illustrate his role in forming U.S. policy for the past 7 1/2 years.
WSJ: Once Spurned, McCain Finds Corporate Support
Corporate executives, who once discounted John McCain's campaign, have been key to the Republican presidential nominee's rebound on the fund-raising circuit, a new analysis of campaign donations shows.
Financial Times: Candidates get personal in swing vote fight
John McCain and Barack Obama on Monday kick off the first formal week of the general election race, signalling they plan over the next 58 days to fight an unexpectedly conventional battle for swing voters in a handful of states in which attacks on personality will play a big role.
Politico: Doh!: Top eight gaffes of the campaign
It's a tough gig, running for president. The modern media is brutally unforgiving with its microphones and video cameras: Any word, any image, at any moment can haunt a candidate for a lifetime.
Politico: Obama considered joining military, regrets abortion answer
Barack Obama says his answer about abortion at the Saddleback Church forum was "probably" too flip. During separate televised interviews last month, Pastor Rick Warren asked the two presidential candidates when a baby gets human rights.
NYT: As a Matter of Faith, Biden Says Life Begins at Conception
Senator Joseph R. Biden Jr., the Democratic nominee for vice president, departed Sunday from party doctrine on abortion rights, declaring that as a Catholic, he believes life begins at conception.
USA TODAY: Palin candidacy puts spotlight on special needs
Families with children who have Down syndrome are hoping Republican vice presidential nominee Sarah Palin can raise awareness about the condition and boost efforts to help people with disabilities live more independently.
LA Times: Sarah Palin's leadership style has admirers and critics
Some who have worked with the Alaska governor say her bold approach is lacking in follow-through, and that she punishes those who dare say 'no.'
NYT: Drawing a Bead on the Press
Before Gov. Sarah Palin came flying in from the wilds of Alaska for the Republican convention in St. Paul, there was a lot of sniggering in media rooms and satellite trucks about her beauty queen looks and rustic hobbies, and the suggestion that she was better suited to be a calendar model for a local auto body shop than a holder of the second-highest office in the land.
Washington Post: The New Talking Heads, by Way of the West Wing
Four years ago this past Thursday, Michael Gerson was holed up in a suite at the Waldorf-Astoria in New York City, where a teleprompter had been set up and President Bush was practicing his acceptance speech for the 2004 Republican National Convention in front of a handful of his closest aides.
Washington Post: First Ladies and the Fabric of the Nation
The season of political conventions ended Thursday in St. Paul, Minn., just as the spring 2009 fashion season was getting underway in New York. The convergence of politics and fashion brings together the substantive and the superficial, with neither industry having a monopoly on frivolousness and both relying on the power of appearances.
Washington Post: The Hyatt's On-Site Lobbyist
The Hyatt Regency Washington on Capitol Hill is known as a stopover for lobbyists looking to kill an annoying bill or save a favorite tax break. So it's no stretch that the hotel has its own lobbyist, of sorts.
Washington Post: Ban on Political Endorsements by Pastors Targeted
Declaring that clergy have a constitutional right to endorse political candidates from their pulpits, the socially conservative Alliance Defense Fund is recruiting several dozen pastors to do just that on Sept. 28, in defiance of Internal Revenue Service rules.
CNN: Obama-Biden camp turns reporters' gag into attack on Palin
So far, Sen. Joe Biden has declined to question opponent Sarah Palin's record, but a gag by the press corps traveling in Biden's plane gave the senator's staff an opportunity to take aim at Palin for ducking the media and being "more of the same."
CNN: U.S. seizes Fannie and Freddie
Treasury chief Paulson unveils historic government takeover of twin mortgage buyers. Top executives are out.
CNN: How plan protects taxpayers
One expert gives Treasury a good grade. A bond guru even says the government could make money.
Washington Post: In Crisis, Paulson's Stunning Use of Federal Power
Hurricane Hank swept through the nation's capital yesterday with gale-force regulatory winds and a tidal surge of federal cash, upending two of Washington's biggest enterprises and permanently changing the landscape of housing finance in America.
Washington Post: Radical Options In Play for New Structure of Firms
Treasury Secretary Henry M. Paulson Jr.'s rescue plan for Fannie Mae and Freddie Mac almost certainly means the two mortgage financiers will cease to exist in their current form, igniting the battle over the future of these giant institutions.
Washington Post Op-Ed: David Kay: What's Missing From the Iran Debate
It would be impossible and foolish to predict what lies immediately ahead for Iran. Inflation runs rampant and domestic unrest is growing, but the leadership is banding together in support of the country's nuclear program.