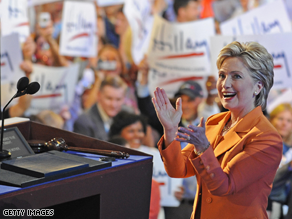 Clinton is hitting the campaign trail for Obama on Monday.
(CNN) - Will she or won't she?
That's the question political observers are asking when it comes to whether Hillary Clinton will go after Republican VP candidate Sarah Palin - the first woman named to a Republican presidential ticket and potentially the first female vice president.
Clinton, who hits the campaign trail for Barack Obama Monday for the first time since her rousing speech at the Democratic presidential convention, has remained hesitant to attack on the Alaska governor since she joined the Republican presidential ticket 10 days ago. She initially offered congratulations to McCain and Palin on her "historic nomination," and the New York senator repeatedly dodged chances to criticize the Alaska governor during public appearances in New York City and Staten Island on Saturday.
"This election is about issues, and that's what's going to matter to people at the end of the day," Clinton told reporters after being repeatedly asked about Palin. In fact, she only directly named Palin once the whole day in an update of her convention speech line: "No way, no how, no McCain, no Palin."
But as polls show McCain receiving a bump since naming Palin as his running mate, and as the GOP vice presidential candidate continues to reference Clinton's historic presidential bid in her own stump speech, the New York senator may face increased pressure to level more direct shots at the Alaska governor.
Watch: The Palin sensation
Obama aides are remaining mum on exactly what Clinton will say during her campaign stops in Tampa and in Kissimmee, Florida later Monday - events scheduled before Palin was even named to the GOP ticket.
"Sen. Clinton will address the choice we have in this election – between a new direction for our economy or four more years of the Bush failed economic policies that McCain-Palin is offering," Obama spokesman Nick Shapiro said. "She will talk about the Obama-Biden plan for immediate and lasting relief for America's working families."