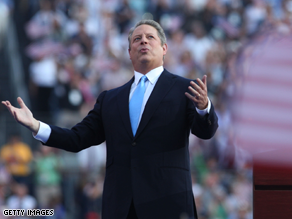 (CNN) - Former Democratic presidential nominee Al Gore is heading back to Iowa next month - the crucial early-voting state that has launched, and short-circuited, countless politicians' White House ambitions.
The former vice president is slated to headline the Iowa Democratic Party's annual Jefferson-Jackson Day dinner in Des Moines - a major fundraising event that perennially attracts the party's biggest stars, the state party said Tuesday. Barack Obama's rousing speech at the event last year was widely credited with catapulting the Illinois senator to victory in the state's caucuses two months later.
The Obama campaign has made Iowa, a state that narrowly voted for President Bush in 2004, a major target this election. A recent CNN/Time/Opinion Research Corporation poll showed Obama holds a double-digit advantage there.