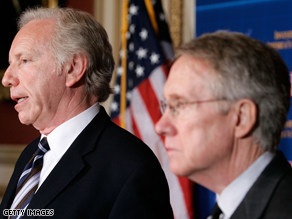 Lieberman is still a part of the Democratic Caucus.
(CNN) – Sen. Joe Lieberman and Majority Leader Sen. Harry Reid are denying reports that Lieberman has been excluded from Democratic Caucus lunches in the wake of his recent speech at the Republican convention which unexpectedly attacked Sen. Barack Obama, the party's presidential nominee.
"While it is no secret that the Democratic Caucus is disappointed in Senator Lieberman's attacks on Senator Obama, the irresponsible report that Senator Lieberman has been excluded from caucus meetings is completely untrue," Reid spokesman Jim Manley said in a statement released Monday. "Senator Lieberman has chosen to not attend Democratic caucus lunches, and that is his choice," Manley said.
The Capitol Hill newspaper Roll Call originally reported this week that Lieberman had been banned from Democratic Caucus lunches then amended its report once both Reid and Lieberman denied there was a ban.
Democratic leaders had previously denied reports they already have a plan to strip Lieberman of his committee chairmanship should the party pad its Senate majority, though many — including House Speaker Nancy Pelosi — have said it remains up for consideration.
"The Roll Call report was completely false," Lieberman spokesman Marshall Wittmann told CNN. "The senator chose not to attend today's caucus lunch because he thought it would focus on presidential politics and he has an informal policy of not attending when he thinks the discussion will focus on the presidential race."
He also said that Lieberman also has an informal policy of not attending the lunches when he thinks discussion will focus on legislative policy about Iraq, an issue where he parts ways with the Democratic Party.
Lieberman's outspoken support for Sen. John McCain, the Republican nominee for president, has strained relations between him and many congressional Democrats. But Lieberman "certainly considers himself a member of the Democratic caucus and nothing has changed," Wittmann said.