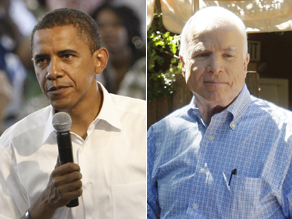 Sens. Obama and McCain are separated by a margin of just one point in Wednesday's CNN poll of polls.
(CNN) – Sen. John McCain continues to hold onto a slim advantage in CNN's latest poll of polls.
In Wednesday's Poll of polls, McCain's margin over Obama is one point, with McCain at 46 percent, Obama at 45 percent and 9 percent unsure about their choice for president.
In Tuesday's poll of polls, the two rivals were also separated by just one point, with McCain at 47 percent and Obama at 46 percent.
"Why is the race so close? The GOP convention energized the Republican base - but it also helped solidify Democratic opposition to the GOP ticket," CNN Polling Director Keating Holland said. "Enthusiasm grew among Democrats and Republicans after the Republican convention. Also, the favorable ratings for Obama and McCain are almost identical - and virtually unchanged from where they were in mid-August, before either party's convention began."
Wednesday's poll of polls is composed of the following five national general election surveys: Fox News/Opinion Dynamics (September 8-9), NBC/Wall Street Journal (September 6-8), American Research Group (September 6-8), Gallup (September 7-9), and Diageo/Hotline (September 7-9).
The poll of polls does not have a sampling error.