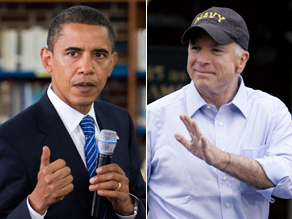 New polls show tight battleground races.
(CNN) - Barack Obama and John McCain each hold slim leads in a key battleground state while the two are statistically tied in a third, according to a new set of Quinnipiac polls released Thursday morning and conducted entirely after the Republican convention.
Watch: Suburban battlegrounds up for grabs
Obama holds a narrow lead in Ohio (49-44 percent), a state hard-hit by the nation's economic woes but one that hasn't voted Democratic since 1996 and one no Republican has lost and gone on to win the presidency.
McCain, on the other hand, is on top in Florida (50-43 percent), the state that handed him a decisive primary win in January which ultimately led to his party's nomination.
Election Center: Check out CNN's electoral breakdown
Both candidates are in a statistical dead heat in Pennsylvania, the state Obama lost handily to Hillary Clinton in the Democratic primary but one that has narrowly voted Democratic in the last four presidential elections. The poll shows Obama on top 48-45 percent there, just inside the polls 3.1 percent margin of error.
Related: Michigan could go either way
All three surveys were conducted September 5-9 and come one day after the release of a set of surveys from CNN/Time/Opinion Research Corporation that showed tight races in four other battleground states: New Hampshire, Michigan, Virginia, and Missouri.
Those surveys showed slim advantages for Obama in New Hampshire and Michigan while McCain was narrowly on top in Virginia and Missouri.