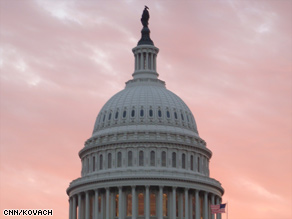 Bloomberg: Obama, McCain Put Politics Aside to Mark Sept. 11 Anniversary
Barack Obama and John McCain will put their presidential ambitions on hold today to make an unprecedented joint appearance at a commemoration marking the seventh anniversary of the worst terrorist attack on U.S. soil.
NYT: Squad of G.O.P. Aides Prepares Palin for Interviews
Two weeks ago, People magazine was granted an exclusive interview with Senator John McCain's new running mate, Gov. Sarah Palin of Alaska, who spoke about motherhood and career, life in Alaska and the historic nature of her candidacy.
USA TODAY: Palin's town used to bill victims for rape kits
In 2000, Alaska lawmakers learned that rural police agencies had been billing rape victims or their insurance companies $500 to $1,200 for the costs of the forensic medical examinations used to gather evidence. They quickly passed a law prohibiting the practice.
AP: Coverage guarantee can hit young the hardest
Barack Obama's campaign promise should prove irresistible to the millions of uninsured: guaranteed access to affordable health coverage, regardless of illness or condition.
NYT: Palin's Pipeline Is Years From Being a Reality
When Gov. Sarah Palin of Alaska took center stage at the Republican convention last week, she sought to burnish her executive credentials by telling how she had engineered the deal that jump-started a long-delayed gas pipeline project.
Politico: Palin team stocked with Bush veterans
With Sarah Palin facing unrelenting press scrutiny and enjoying off-the-charts excitement from voters, John McCain's campaign is quickly moving to augment her staff and put in place an infrastructure that can address the unexpected wave of interest.
CNN: McCain criticized Wasilla earmarks in 2001
Republican presidential candidate John McCain criticized two his future running mate's hometown projects in broadsides in 2001 against congressional "pork-barrel" spending, records from the Arizona senator's office show.
CNN: Fact Check: McCain earmark claims examined
The debate over government spending is heating up on the campaign trail and raising greater focus on which presidential candidate will really change the way Washington does business.
CNN Radio: Pit Bulls, Pigs, and Wolves
The presidential campaign turns to yet another animal metaphor...Ron Paul makes his endorsement - or three - for president and Sarah Palin's plane is overloaded. Pat St.Claire has today's CNN Radio Political Ticker.
CNN: Judge warned Palin in 2005 to back off brother-in-law's job
An Alaska judge warned Gov. Sarah Palin's family against trying to get her then-brother-in-law fired, according to court records.
AP: ABC plans prime-time Palin special
Charles Gibson's interviews with Republican vice presidential candidate Sarah Palin will form the basis of a special prime-time edition of "20/20" Friday, ABC said Wednesday.
USA TODAY: Getting to the meat of oft-heard political jab
From folksy Texans to today's presidential candidates, the line about putting "lipstick on a pig" has been a time-honored and bipartisan weapon in the political arsenal.
NYT: Ad on Sex Education Distorts Obama Policy
Escalating its efforts to portray Senator Barack Obama as a candidate whose values fall outside the mainstream, the campaign of Senator John McCain on Tuesday unveiled a new television advertisement claiming that Mr. Obama, the Democratic nominee, favors "comprehensive sex education" for kindergarten students.
Politico: Palin's earmarks: Not just for the halibut
Senator John McCain recently told reporters that Alaska Governor Sarah Palin has "learned that earmarks are bad." But not that bad, apparently.
Washington Times: Obama's museum earmarks draw fire
Democratic presidential candidate Sen. Barack Obama tried to direct more than $3 million in taxpayer funds to a Chicago museum whose chairman is one of the Illinois senator's largest campaign fundraisers.
TIME: Poll: Obama, McCain Split Key States
Ten days after the emergence of Sarah Palin on the national stage, Barack Obama is holding his own in two key states but trailing John McCain in two others, according to a new TIME/CNN poll out today, conducted by Opinion Research Corp., of four swing states.
Washington Post: Mixed Impressions on Taxes; Gaps Exist Between Candidates' Positions, Public Perceptions
According to the latest Washington Post-ABC News poll, a majority of voters - 51 percent - said their federal taxes would go up under an Obama administration, while a third said so of Sen. John McCain (R-Ariz.), who has pledged to cut taxes across the board. Fourteen percent think their taxes will go up no matter who controls the White House.
Washington Post: McCain Camp Hits Obama On More Than One Front
Sen. John McCain's presidential campaign launched a broadside against Sen. Barack Obama yesterday, accusing him of a sexist smear, comparing his campaign to a pack of wolves on the prowl against the GOP vice presidential pick, charging that the Democratic nominee favored sex education for kindergartners, and resurrecting the comments of the Rev. Jeremiah A. Wright Jr.
Washington Post: More Voters Perceive Progress in Iraq
The percentage of voters seeing progress in U.S. efforts to restore civil order in Iraq is now higher than it has been in nearly three years, even as Americans still hold broadly negative views about the original decision to go to war.
WSJ: Palin's Entry Gives GOP Ticket Shot at Capturing the Youth Vote
With colleges back in session and Alaska Gov. Sarah Palin on board as the Republican vice presidential nominee, social conservatives are intensifying efforts to woo young voters, a demographic they once all but conceded to the Democrats.
NYT: With Palin at His Side, McCain Finds Energized Crowds
What a difference a running mate makes. Wednesday morning, 11 a.m.: Senator John McCain appeared in Northern Virginia with Gov. Sarah Palin of Alaska, who had a crowd estimated by local fire marshals at 15,000 — one of the largest of Mr. McCain's 2008 presidential campaign — chanting "Sarah, Sarah, Sarah!"
CNN: A little word makes big waves on campaign trail
In a season when words are weapons, it's the H-bomb of campaign trail rhetoric - a word so potent that a single appearance usually sparks days of cable debate and a sea of news ink. Lie.
Washington Post: The Ads That Aren't
When Democrats turned their attention to national security themes at their nominating convention last month, Sen. John McCain's campaign was ready. In a withering TV commercial called "Tiny," McCain claimed that Sen. Barack Obama had called Iran a "tiny" country that "doesn't pose a serious threat."
CNN: Palin returns to Alaska
Alaska Gov. Sarah Palin returned to Fairbanks on Monday night, her first time back to her home state since Sen. John McCain tapped her as his Republican running mate in the race for the White House.
Washington Post: For Working Moms, 'Flawed' Palin Is the Perfect Choice
Eight working mothers from the Virginia Run development in Centreville went together to the Palin-McCain rally yesterday because Sarah Palin is "just like us." This is something new. Nobody ever accused Franklin Roosevelt or Ronald Reagan of being just like us.
Washington Post: Statesman or Showman? Huckabee's Hip Second Act
Mike Huckabee– why doesn't this man have his own TV show yet? Oh, and not just another news-talk show like the one Fox is considering for him. This man needs a variety show. He plays guitar! He's a monologuist! A stand-up comedian! For years, entertainers have taken politicians' jobs; here's the guy who'll turn that trend around.
Washington Post: New Ad Tests the Strength of Palin's Coattails
Well, that didn't take long: Sarah Palin is now a big-time topic in down-ballot races. State Rep. Jay Love, a Republican running in Alabama's 2nd Congressional District, hit the airwaves yesterday tightly allied with the vice presidential candidacy of the Alaska governor.
Washington Post: Throngs Greet GOP Ticket in N.Va.
Republican presidential nominee John McCain and his running mate, Alaska Gov. Sarah Palin, took their bid for the White House to Northern Virginia yesterday, rallying thousands of supporters by vowing to shake up Washington and saying they will fight for votes in the increasingly Democratic region.
CNN: Defense lawyers want judge to limit prosecutors in Sen. Stevens case
Attorneys for U.S. Sen. Ted Stevens on Wednesday asked the judge in his corruption trial to ensure that prosecutors don't make any reference to activity that — although legal — they believe could taint jurors' perception of the case.
CNN: Sex, drugs, gifts uncovered in government oil probe
U.S. government employees received improper gifts from energy industry representatives, and engaged with them in illegal drug use and inappropriate sexual relations, according to a report issued Wednesday.
CNN: Admiral: Troops alone will not yield victory in Afghanistan
The U.S. is "running out of time" to win the war in Afghanistan, and sending in more troops will not guarantee victory, the chairman of the Joint Chiefs of Staff, Adm. Michael Mullen, warned Congress on Wednesday.
CNN: Officials to Congress: Nuclear terror threat growing
The likelihood that global terrorists will be able to acquire a nuclear weapon and target the United States with it is increasing, a former senator testified before a congressional committee Wednesday.