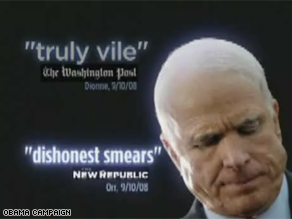 A new Obama ad is attacking the tone of McCain's campaign.
(CNN) - Democrats stepped up their offensive to paint John McCain and his team as deliberately dishonest Monday, as Barack Obama's campaign released a new ad that accuses the Republican nominee of "deception," and the Democratic National Committee launched a Web site tracking GOP "lies."
"What happened to John McCain?" asks the announcer in the 30-second spot, "Honor."
The ad quotes commentators calling the Arizona senator's ads "vile" and filled with "dishonest smears" from a "disgraceful, dishonorable campaign."
"After voting with Bush 90 percent of the time, proposing the same disastrous
economic policies... It seems 'deception' is all he's got left," says the announcer. The Obama campaign said the ad was running on national cable and in "key" states.
Monday morning in Jacksonville, McCain blamed Obama for the increasingly brutal tone on the trail. "Senator Obama's been saying some pretty nasty things about Governor Palin and me," he said. "...That's ok. He can attack if he wants, but all the insults in the world aren't going to bring change to Washington."
Last week, Obama's spokesman used similar language to describe McCain and his campaign ads, accusing the Arizona senator of "cynically running the sleaziest and least honorable campaign in modern presidential campaign history." On Sunday, former Bush strategist Karl Rove criticized both campaigns, saying the recent McCain charges against Obama went "beyond the 100 percent truth test."
The McCain campaign strongly rejects the charge, and says the judgment from the Obama team and many journalists reflects bias against the Republican nominee's presidential bid.
As the new Obama spot debuted, the DNC launched a Web site - "Count the Lies" – focused on statements from McCain and his surrogates. Democrats pointed to 51 so far since McCain effectively captured the Republican nomination.
The McCain campaign quickly responded. "As Americans face economic uncertainty, it is clear that Barack Obama would sooner hurl insults than discuss his record of seeking higher taxes during a down economy, opposing additional off-shore drilling to reduce energy prices and voting the partisan line nearly 100 percent of the time," said McCain spokesman Tucker Bounds. "This latest ad by Barack Obama is a desperate effort to move away from talking about his thin, but alarming record on the issues, and it isn't going to reform Washington or strengthen our economy."