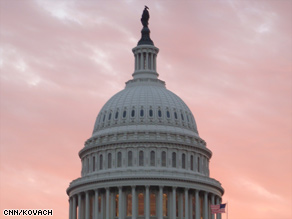 Washington Times: Records show McCain more bipartisan
Sen. John McCain's record of working with Democrats easily outstrips Sen. Barack Obama's efforts with Republicans, according to an analysis by The Washington Times of their legislative records.
CNN: Rove: Some McCain ads don't pass '100 percent truth' test
Former Bush adviser Karl Rove suggested Sunday that John McCain had gone "one step too far" in some of his recent ads attacking Barack Obama.
CNN: Preston on Politics: Memorabilia helps preserve convention history
The fireworks over Denver and balloon drop in St. Paul are distant memories of the 2008 presidential conventions, but Harry Rubenstein and Larry Bird hope the handful of Democratic and Republican delegates who pledged to help preserve history keep their word.
Click here to watch the video.
AP: Poll: Public opposes increased presidential power
Americans strongly oppose giving the president more power at the expense of Congress or the courts, even to enhance national security or the economy, according to a new poll.
CNN Radio: The political race, the NASCAR race, and the fundraising race
The checkered flag is seven weeks away and Sen. McCain was in New Hampshire, possibly appealing to voters in the south with a pit-stop at a NASCAR race. Meanwhile, Sen. Obama stays ahead in the fundraising race. CNN Radio's Bob Costantini has today's radio ticker.
WSJ: Palin's Project List Totals $453 Million
Last week, Republican presidential candidate Sen. John McCain said his running mate, Alaska Gov. Sarah Palin, hadn't sought earmarks or special-interest spending from Congress, presenting her as a fiscal conservative. But state records show Gov. Palin has asked U.S. taxpayers to fund $453 million in specific Alaska projects over the past two years.
WSJ: McCain Team Hustles Amid Rising Interest
The exploding interest in Sen. John McCain's campaign, fueled in part by the addition of Alaska Gov. Sarah Palin to the ticket, has his staff scrambling to expand events.
Washington Post: Into the Rolodex for a Bundle; Business Networks Built Over Decades Fuel Political Donations
P. Wesley Foster, the real estate mogul who founded Chantilly-based Long & Foster, is hitting up acquaintances from a lifetime of business deals to help raise money for Sen. John McCain. When he runs out of names, he gets suggestions from the McCain campaign.
Washington Post: Financial, Defense Lead Area Industries in Political Giving
Executives and employees of financial services firms and defense contractors have given the most money to the two major political parties and their presidential nominees, a review of donations by some of the region's largest companies and nonprofit organizations shows.
CNN: Obama campaign confirms they raised $66 million in August
Democratic presidential candidate Barack Obama's campaign raised $66 million in August, the campaign announced Sunday, topping its previous high mark and running well ahead of Obama's Republican rival.
Politico: Despite record month, Obama needs more cash
Barack Obama's $66 million haul in August donations may set records but it's only a down payment on the huge sums the Democratic presidential nominee must continue to collect in order to compete through the Nov. 4 election.
Washington Post: Bush's Overseas Policies Begin Resembling Obama's
Barack Obama contends that a John McCain presidency would amount to little more than President Bush's third term. But as it turns out, an Obama presidency might look a bit like Bush's second.
Washington Post: Clinton in Ohio: 'Who Is for You?'
Sen. Hillary Rodham Clinton on Sunday made a pair of campaign stops in this important battleground for former rival Sen. Barack Obama, generating large, passionate crowds - and barely mentioning Alaska Gov. Sarah Palin.
Politico: Bank meltdown wallops campaigns
America's banking instability could upend the final 50 days of the presidential campaign, with both candidates forced to confront a calamity that has gotten only glancing attention during the first 20 months of the race for the White House.
Politico: Biden speech to take hard hit at McCain
Joe Biden will deliver a high-profile address intended as the first attack in a sustained anti-McCain offensive in a speech called "Bush 44" he'll deliver Monday in the key battleground state of Michigan.
NYT: Both Sides Seeking to Be What Women Want
For evidence of how intensely the presidential candidates are battling over women, consider their investment in Oprah Winfrey. After the news programs, "Oprah" is the chief recipient of campaign advertisements this year, with Senator John McCain buying more commercial spots on the program in the last month than Senator Barack Obama — even though Ms. Winfrey herself is backing Mr. Obama.
Washington Times: Palin's 'Mr. Mom' a secret weapon?
He's a member of the steelworkers union, a registered independent and has championed the need for vocational – not Ivy League – education in his home state.
Washington Post: Familiar Ground May Be Election's Deciding Factor
When the general election began a few months ago, Barack Obama's advisers talked optimistically about dramatically redrawing the electoral map.
CNN: McCain gains ground in new poll of battleground state
Barack Obama appears to be holding on to a significant edge in Iowa in new poll numbers released this weekend, but his advantage over John McCain in Minnesota, which hosted the Republican convention earlier this month, seems to have evaporated.
WSJ: Obama Faces Battle For New Hampshire
Only four electoral votes are at stake, but with the presidential campaign looking increasingly tight, John McCain and Barack Obama both took time to barnstorm in New Hampshire over the weekend.
Financial Times: Obama supporters ready for fight
For Britt Hatch, a volunteer for the Obama campaign in New Hampshire, the past two weeks of the US presidential race have come as an unwelcome surprise.
WSJ: Environmentalists Criticize Palin For Support of Aerial Wolf Hunting
An environmental group introduced a graphic television ad Friday condemning Alaska Gov. Sarah Palin's support for aerial wolf hunting. The ad also seeks to take the Great White North mystique out of the vice-presidential candidate for voters in the Lower 48.
AP: More errors for Rangel; hires new accountant
A new set of potential problems in Rep. Charles Rangel's financial papers has prompted the tax-writing lawmaker to hire a forensic accounting expert to try to unravel the mess.