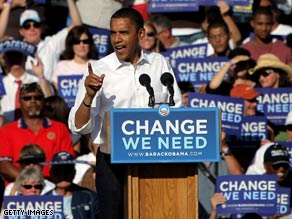 Sen. Barack Obama has tough words for Sen. John McCain during a stop Monday in Pueblo, Colorado.
WASHINGTON (CNN) - Ever since Sen. John McCain picked Alaska Gov. Sarah Palin for his running mate more than two weeks ago, the Republicans have dominated the headlines.
But as the recent failures of major investment banks on Wall Street remind voters of troubles facing the economy, the Democratic ticket of Sens. Barack Obama and Joe Biden has been able to get back on offense.
"We have reached another major turning point in the campaign. John McCain had all the momentum coming out of his convention with Sarah Palin and dominated the news, [and] was on offense right to the end of this last week," said David Gergen, a CNN senior political analyst. "And there is the opportunity for Obama to seize the momentum back on his side. I don't know if he's going to do it or not. He is trying."
The McCain campaign is not ceding the mantle of change to Democrats, however. It is portraying the Arizona Republican as the best candidate to shake up the Washington bureaucracy that allowed the financial crisis to occur.